Try The #1 Collagen Support Formula
For FREE Today!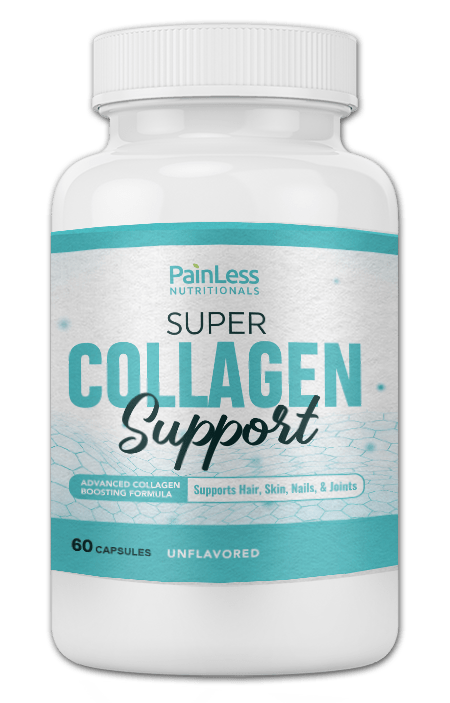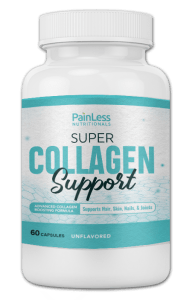 We've overstocked on our all new advanced collagen formula, Super Collagen Support. Now, we're looking to make extra room in our warehouse, so just for today, we're offering our dear customers the chance to get this amazing collagen support formula for free!
In the next 24 hours, you can get a bottle of our advanced collagen formula, Super Collagen Support, FREE (retails for $49.00). All you have to pay for is the small shipping fee and you can expect your free bottle as soon as possible.
Improve muscle growth and recovery
Supports relief for joint discomfort
Supports healthy bones
Supports good heart health
Promotes a healthy and beautiful skin
Made in the U.S.A. with 100% natural ingredients – no artificial fillers, flavorings, or colorings; just premium ingredients you can trust.
About ⅓ of our protein is collagen, making it the most abundant protein in the body. It is found in bones, muscles, skin, tendons, and our ligaments. Our blood vessels, corneas, and teeth also have collagen in them. Because of the body's collagen composition, experts consider this protein as a building block.
With aging, the body needs more support for collagen production. This is one of the many reasons why people in their 50s and 60s need more support for relief in aches and pains that we often shrugged off when we were younger.
As we age, the collagen needed to provide joint elasticity, bone density, and muscle mass as well as strength becomes in short supply and adversely affects our quality of life. However, you can always try to slow things down a bit and this is by taking collagen supplements.
That is the basis for our Super Collagen Support. It has ingredients that can do the following for your body's collagen production:
Can help maintain muscle mass. Our muscles have collagen, and it is estimated that up to 10% of muscle tissue is collagen. Some studies show that taking collagen supplements help support muscle mass as you age.
Supports bone strength. Our bones are made up of mostly collagen. As we age, the less collagen we produce, the less support we get for bone strength. Taking collagen supplements may help maintain a strong and healthy bones.
Supports cardiovascular health. Our arteries have collagen to provide structure. If our body produces less collagen, this could eventually lead to decreased support for healthy arteries. Taking collagen supplements has been cited to help support overall heart and artery health.
Can help support with skin elasticity and strength. Collagen production declines as we age, and this is bad news for our skin as much of it is made of collagen. Several studies have cited collagen supplementation as an effective means of supporting collagen production process. This can help maintain beautiful skin stay beautiful longer.
Maintains healthy nails and hair. Collagen supplements and ingredients that support collagen production can help support stronger hair and nails. Some studies also suggest the same ingredients can help support hair and nail growth.
Supplies a daily dose of important vitamins and minerals. Our Super Collagen Support contains no fewer than 10 vitamins and minerals that can help benefit collagen production in the body. Among them are biotin, vitamin C, MSM, and vitamin B6[6].
Supply Is Limited And They Will Go Fast
Frequently Asked Questions
Q: What are the ingredients in Super Collagen Support?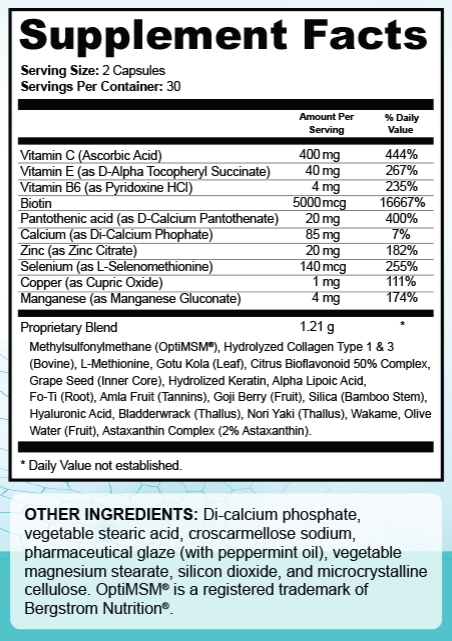 To check the complete supplement facts and ingredients, click here.
Q: Who is the Super Collagen Support supplement designed for?
Our Super Collagen Support supplement is for adult women and men who want to maintain or improve their already normal health and experience the benefits that may accompany that, such as younger looking skin, stronger bones, and stronger hair and nails. Super Collagen Support contains ingredients studied for their pro-collagen effects which can help improve the body's natural collagen production.
Q: How do I take Super Collagen Support?
Suggested Use: 2 capsules daily, preferably with meals or as directed by a healthcare professional.
Do not exceed the recommended dose. Pregnant or nursing mothers, children under 18, and individuals with a known medical condition should consult a physician before using this or any dietary supplement.
Q: Is there a risk-free, money-back guarantee?
All PainLess Nutritionals products come with a 60-day Money-Back Guarantee period which gives you great peace of mind. We offer a full refund of the product price for products returned to us within 60 days.
Please contact our Customer Service Team before you return anything. You can send an email to support@PainlessNutritionals.com or call (888) 947-3780. We will get back to you within 1 business day. Please describe the issue in detail, including the return reason, along with your name and email address used in placing your order, your order number, and name of the purchased product.
Q: How much is the shipping costs for the free bottle?
Below is the shipping and handling costs for the free bottle depending on your location.
| | |
| --- | --- |
| Location | Shipping & Handling Costs |
| Continental United States | $12.95 |
| US Protectorates | $19.95 |
| Other Countries | $24.95 |
*Customers are charged in USD
Are there other questions we can answer about your order? Please contact us at support@PainlessNutritionals.com or call us at (888) 947-3780 and we'll be happy to help.
Q: How quickly will my order be shipped to me?
Your order has been instantaneously sent to our warehouse. It will take the warehouse an approximate time frame of 1 to 3 business days to get your order ready and shipped out.
Our products typically arrive within 5 – 7 business days for orders within the U.S and between 14 – 21 business days for International orders.
For tracking information and delivery status of your order, please contact us at support@PainlessNutritionals.com or call (888) 947-3780.
Q: How will my order appear on my bank statement?
Your purchase will appear on your bank statement from our secure merchant under the name "CLKBANK*COM".
These statements have not been evaluated by the Food and Drug Administration. This product is not intended to diagnose, treat, cure or prevent any disease.
Individual results from taking supplements and/or other products mentioned on this site may vary. Before starting a dietary supplement routine, be sure to consult a qualified healthcare professional. The content on this site does not supplant medical advice and is meant for informational purposes only.
ClickBank is the retailer of products on this site. CLICKBANK® is a registered trademark of Click Sales Inc., a Delaware corporation located at 1444 S. Entertainment Ave., Suite 410 Boise, ID 83709, USA and used by permission. ClickBank's role as retailer does not constitute an endorsement, approval or review of these products or any claim, statement or opinion used in promotion of these products.
Resources
+
Zdzieblik D, Oesser S, Baumstark MW, Gollhofer A, König D. Collagen peptide supplementation in combination with resistance training improves body composition and increases muscle strength in elderly sarcopenic men: a randomised controlled trial. Br J Nutr. 2015;114(8):1237-1245. doi:10.1017/S0007114515002810
Moskowitz RW. Role of collagen hydrolysate in bone and joint disease. Semin Arthritis Rheum. 2000;30(2):87-99. doi:10.1053/sarh.2000.9622

Porfírio, Elisângela & Fanaro, Gustavo. (2016). Collagen supplementation as a complementary therapy for the prevention and treatment of osteoporosis and osteoarthritis: a systematic review. Revista Brasileira de Geriatria e Gerontologia. 19. 153-164. 10.1590/1809-9823.2016.14145.

Tomosugi N, Yamamoto S, Takeuchi M, et al. Effect of Collagen Tripeptide on Atherosclerosis in Healthy Humans. J Atheroscler Thromb. 2017;24(5):530-538. doi:10.5551/jat.36293
Proksch E, Segger D, Degwert J, Schunck M, Zague V, Oesser S. Oral supplementation of specific collagen peptides has beneficial effects on human skin physiology: a double-blind, placebo-controlled study. Skin Pharmacol Physiol. 2014;27(1):47-55. doi:10.1159/000351376

Borumand M, Sibilla S. Daily consumption of the collagen supplement Pure Gold Collagen® reduces visible signs of aging [published correction appears in Clin Interv Aging. 2020 Feb 04;15:131]. Clin Interv Aging. 2014;9:1747-1758. Published 2014 Oct 13. doi:10.2147/CIA.S65939

Hexsel D, Zague V, Schunck M, Siega C, Camozzato FO, Oesser S. Oral supplementation with specific bioactive collagen peptides improves nail growth and reduces symptoms of brittle nails. J Cosmet Dermatol. 2017;16(4):520-526. doi:10.1111/jocd.12393
Bolke L, Schlippe G, Gerß J, Voss W. A Collagen Supplement Improves Skin Hydration, Elasticity, Roughness, and Density: Results of a Randomized, Placebo-Controlled, Blind Study. Nutrients. 2019;11(10):2494. Published 2019 Oct 17. doi:10.3390/nu11102494

Butawan M, Benjamin RL, Bloomer RJ. Methylsulfonylmethane: Applications and Safety of a Novel Dietary Supplement. Nutrients. 2017;9(3):290. Published 2017 Mar 16. doi:10.3390/nu9030290

Tane N, Takeda T, Shioji T, Ohyama H, Itoh H. Effect of vitamin B6 deficiency on collagen metabolism in rats. J Nutr Sci Vitaminol (Tokyo). 1976;22(2):105-114. doi:10.3177/jnsv.22.105