UPDATE: Due to popularity of this offer we only have a limited supply of free bottles left. As of March 25, 2023 we still have product IN STOCK.
FLASH SALE: TODAY'S FREE OFFER
Get The Best Thyroid Supplement Absolutely Free Today!
It happens to the best of us. We actually ended up overstocking our supply of PainLess Thyroid Support. Now, we have to get rid of as many boxes as fast as possible because we have more shipments coming in, and we have zero room to spare.
And today just happens to be your lucky day. We're tagging our #1 thyroid supplement with a FREE Bottle deal!
In the next 24 hours, you can avail a bottle of PainLess Thyroid Support absolutely FREE (retails for $49). Just add a little bit more for the shipping fee and you can expect the best thyroid supplement at your doorstep before you know it!
Boost your fat-burning thyroid hormone to supercharge your metabolism and weight loss(1)
Restore youthful energy and stamina(2)
Sharpen your memory and focus(3)
Contains powerful thyroid boosting ingredients(4)
Easy-to-swallow vegetarian capsules
Made in the U.S.A. with 100% natural ingredients – no artificial fillers, flavorings, or colorings; just premium ingredients you can trust. Gluten-Free, Soy-Free, Vegan & Non-GMO
Supply is limited & they will go fast!
Our thyroid is a small body part, but it controls a lot of what goes on inside our body. From muscle growth and fat loss to feelings of happiness and the "fight or flight" response, caring for our thyroid should not be an overlooked part of a healthy lifestyle.
PainLess Thyroid Support contains all the necessary ingredients that not only provide a good dose of pro-thyroid ingredients, but also give extra benefits for overall health. Here are some of the key ingredient benefits you can experience if you get our product:
Shown to help with weight loss efforts. A clinical study in 2017 called the POUNDS LOST Trial studied the association of thyroid hormones and weight loss. The scientists concluded that high levels of T3 and T4 hormones predicted more weight loss. Our product contains key ingredients known to help balance T3 and T4, as well as increase them naturally. One of them is Zinc, and one study found that Zinc deficiency is directly related to low T3(5). The mineral also helps balance your hormones if you have too much T4 by converting it to T3.
Shown to help fix mineral deficiencies. Thyroid disease is related to iodine deficiency and iodine deficiency is also linked to low levels of zinc, selenium, and molybdenum(6). Our product contains iodine as well as the three minerals mentioned which can help reduce risks of thyroid disease.
Shown to help boost brain power and focus. Our formula contains Ashwagandha, an herbal extract known to provide positive effects on clear thinking and focus(7).
Shown to help optimize energy metabolism. B12 and Cayenne have been shown to have a positive effect on our body's natural metabolism, especially when it comes to burning fat(8) and cellular energy(9).
Shown to help lower stress levels. Contains tyrosine, a nootropic known for its anxiolytic and anti-stress(10) properties.
Click the Button Below to Get
Your FREE Bottle of Thyroid Support
(WARNING! This Offer Is Only Good While You're On This Page)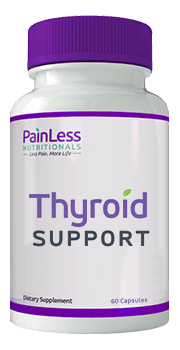 Today's Price: FREE
(just pay $9.95 shipping)
Clicking the button below activates my discount for a FREE bottle of Thyroid Support
(just pay $9.95 for shipping).
These statements have not been evaluated by the Food and Drug Administration. This product is not intended to diagnose, treat, cure or prevent any disease.
ClickBank is the retailer of products on this site. CLICKBANK® is a registered trademark of Click Sales Inc., a Delaware corporation located at 1444 S. Entertainment Ave., Suite 410 Boise, ID 83709, USA and used by permission. ClickBank's role as retailer does not constitute an endorsement, approval or review of these products or any claim, statement or opinion used in promotion of these products.
Resources:
+
Liu G, Liang L, Bray GA, et al. Thyroid hormones and changes in body weight and metabolic parameters in response to weight loss diets: the POUNDS LOST trial. Int J Obes (Lond). 2017;41(6):878‐886. doi:10.1038/ijo.2017.28
Yavuz S, Salgado Nunez Del Prado S, Celi FS. Thyroid Hormone Action and Energy Expenditure. J Endocr Soc. 2019;3(7):1345‐1356. Published 2019 May 16. doi:10.1210/js.2018-00423
Grigorova M, Sherwin BB. Thyroid hormones and cognitive functioning in healthy, euthyroid women: a correlational study. Horm Behav. 2012;61(4):617‐622. doi:10.1016/j.yhbeh.2012.02.014
B12
Jabbar A, Yawar A, Waseem S, et al. Vitamin B12 deficiency common in primary hypothyroidism [published correction appears in J Pak Med Assoc. 2009 Feb;59(2):126. Wasim, Sabeha [corrected to Waseem, Sabiha]]. J Pak Med Assoc. 2008;58(5):258‐261.

Iodine
Chung HR. Iodine and thyroid function. Ann Pediatr Endocrinol Metab. 2014;19(1):8‐12. doi:10.6065/apem.2014.19.1.8

Magnesium
Wang K, Wei H, Zhang W, et al. Severely low serum magnesium is associated with increased risks of positive anti-thyroglobulin antibody and hypothyroidism: A cross-sectional study. Sci Rep. 2018;8(1):9904. Published 2018 Jul 2. doi:10.1038/s41598-018-28362-5

Zinc
Betsy A, Binitha M, Sarita S. Zinc deficiency associated with hypothyroidism: an overlooked cause of severe alopecia. Int J Trichology. 2013;5(1):40‐42. doi:10.4103/0974-7753.114714

Selenium
Ventura M, Melo M, Carrilho F. Selenium and Thyroid Disease: From Pathophysiology to Treatment. Int J Endocrinol. 2017;2017:1297658. doi:10.1155/2017/1297658

Copper
Aihara K, Nishi Y, Hatano S, et al. Zinc, copper, manganese, and selenium metabolism in thyroid disease. Am J Clin Nutr. 1984;40(1):26‐35. doi:10.1093/ajcn/40.1.26

Manganese
Memon NS, Kazi TG, Afridi HI, et al. Correlation of manganese with thyroid function in females having hypo- and hyperthyroid disorders. Biol Trace Elem Res. 2015;167(2):165‐171. doi:10.1007/s12011-015-0277-8

Molybdenum
Luca E, Fici L, Ronchi A, et al. Intake of Boron, Cadmium, and Molybdenum enhances rat thyroid cell transformation. J Exp Clin Cancer Res. 2017;36(1):73. Published 2017 Jun 2. doi:10.1186/s13046-017-0543-z

Tyrosine
Khaliq W, Andreis DT, Kleyman A, Gräler M, Singer M. Reductions in tyrosine levels are associated with thyroid hormone and catecholamine disturbances in sepsis. Intensive Care Med Exp. 2015;3(Suppl 1):A686. Published 2015 Oct 1. doi:10.1186/2197-425X-3-S1-A686

Ashwagandha
Gannon JM, Forrest PE, Roy Chengappa KN. Subtle changes in thyroid indices during a placebo-controlled study of an extract of Withania somnifera in persons with bipolar disorder. J Ayurveda Integr Med. 2014;5(4):241‐245. doi:10.4103/0975-9476.146566

Kelp
Clark CD, Bassett B, Burge MR. Effects of kelp supplementation on thyroid function in euthyroid subjects. Endocr Pract. 2003;9(5):363‐369. doi:10.4158/EP.9.5.363

Ertek S, Cicero AF, Caglar O, Erdogan G. Relationship between serum zinc levels, thyroid hormones and thyroid volume following successful iodine supplementation. Hormones (Athens). 2010;9(3):263‐268. doi:10.14310/horm.2002.1276
Çelik T, Savaş N, Kurtoğlu S, et al. Iodine, copper, zinc, selenium and molybdenum levels in children aged between 6 and 12 years in the rural area with iodine deficiency and in the city center without iodine deficiency in Hatay. Turk Pediatri Ars. 2014;49(2):111‐116. Published 2014 Jun 1. doi:10.5152/tpa.2014.1209
Chandrasekhar K, Kapoor J, Anishetty S. A prospective, randomized double-blind, placebo-controlled study of safety and efficacy of a high-concentration full-spectrum extract of ashwagandha root in reducing stress and anxiety in adults. Indian J Psychol Med. 2012;34(3):255‐262. doi:10.4103/0253-7176.106022
Janssens PL, Hursel R, Martens EA, Westerterp-Plantenga MS. Acute effects of capsaicin on energy expenditure and fat oxidation in negative energy balance. PLoS One. 2013;8(7):e67786. Published 2013 Jul 2. doi:10.1371/journal.pone.0067786
O'Leary F, Samman S. Vitamin B12 in health and disease. Nutrients. 2010;2(3):299‐316. doi:10.3390/nu2030299
Jongkees BJ, Hommel B, Kühn S, Colzato LS. Effect of tyrosine supplementation on clinical and healthy populations under stress or cognitive demands--A review. J Psychiatr Res. 2015;70:50‐57. doi:10.1016/j.jpsychires.2015.08.014
B12
Jabbar A, Yawar A, Waseem S, et al. Vitamin B12 deficiency common in primary hypothyroidism [published correction appears in J Pak Med Assoc. 2009 Feb;59(2):126. Wasim, Sabeha [corrected to Waseem, Sabiha]]. J Pak Med Assoc. 2008;58(5):258‐261.

Iodine
Chung HR. Iodine and thyroid function. Ann Pediatr Endocrinol Metab. 2014;19(1):8‐12. doi:10.6065/apem.2014.19.1.8

Magnesium
Wang K, Wei H, Zhang W, et al. Severely low serum magnesium is associated with increased risks of positive anti-thyroglobulin antibody and hypothyroidism: A cross-sectional study. Sci Rep. 2018;8(1):9904. Published 2018 Jul 2. doi:10.1038/s41598-018-28362-5

Zinc
Betsy A, Binitha M, Sarita S. Zinc deficiency associated with hypothyroidism: an overlooked cause of severe alopecia. Int J Trichology. 2013;5(1):40‐42. doi:10.4103/0974-7753.114714

Selenium
Ventura M, Melo M, Carrilho F. Selenium and Thyroid Disease: From Pathophysiology to Treatment. Int J Endocrinol. 2017;2017:1297658. doi:10.1155/2017/1297658

Copper
Aihara K, Nishi Y, Hatano S, et al. Zinc, copper, manganese, and selenium metabolism in thyroid disease. Am J Clin Nutr. 1984;40(1):26‐35. doi:10.1093/ajcn/40.1.26

Manganese
Memon NS, Kazi TG, Afridi HI, et al. Correlation of manganese with thyroid function in females having hypo- and hyperthyroid disorders. Biol Trace Elem Res. 2015;167(2):165‐171. doi:10.1007/s12011-015-0277-8

Molybdenum
Luca E, Fici L, Ronchi A, et al. Intake of Boron, Cadmium, and Molybdenum enhances rat thyroid cell transformation. J Exp Clin Cancer Res. 2017;36(1):73. Published 2017 Jun 2. doi:10.1186/s13046-017-0543-z

Tyrosine
Khaliq W, Andreis DT, Kleyman A, Gräler M, Singer M. Reductions in tyrosine levels are associated with thyroid hormone and catecholamine disturbances in sepsis. Intensive Care Med Exp. 2015;3(Suppl 1):A686. Published 2015 Oct 1. doi:10.1186/2197-425X-3-S1-A686

Ashwagandha
Gannon JM, Forrest PE, Roy Chengappa KN. Subtle changes in thyroid indices during a placebo-controlled study of an extract of Withania somnifera in persons with bipolar disorder. J Ayurveda Integr Med. 2014;5(4):241‐245. doi:10.4103/0975-9476.146566

Kelp
Clark CD, Bassett B, Burge MR. Effects of kelp supplementation on thyroid function in euthyroid subjects. Endocr Pract. 2003;9(5):363‐369. doi:10.4158/EP.9.5.363

Liu G, Liang L, Bray GA, et al. Thyroid hormones and changes in body weight and metabolic parameters in response to weight loss diets: the POUNDS LOST trial. Int J Obes (Lond). 2017;41(6):878‐886. doi:10.1038/ijo.2017.28
Betsy A, Binitha M, Sarita S. Zinc deficiency associated with hypothyroidism: an overlooked cause of severe alopecia. Int J Trichology. 2013;5(1):40‐42. doi:10.4103/0974-7753.114714Ventura M, Melo M, Carrilho F. Selenium and Thyroid Disease: From Pathophysiology to Treatment. Int J Endocrinol. 2017;2017:1297658. doi:10.1155/2017/1297658
Grigorova M, Sherwin BB. Thyroid hormones and cognitive functioning in healthy, euthyroid women: a correlational study. Horm Behav. 2012;61(4):617‐622. doi:10.1016/j.yhbeh.2012.02.014
Avraham Y, Hao S, Mendelson S, Berry EM. Tyrosine improves appetite, cognition, and exercise tolerance in activity anorexia. Med Sci Sports Exerc. 2001;33(12):2104‐2110. doi:10.1097/00005768-200112000-00020
Singh N, Bhalla M, de Jager P, Gilca M. An overview on ashwagandha: a Rasayana (rejuvenator) of Ayurveda. Afr J Tradit Complement Altern Med. 2011;8(5 Suppl):208‐213. doi:10.4314/ajtcam.v8i5S.9