FLASH SALE: TODAY'S FREE OFFER
Try The #1 Bone and Immunity
Support Formula For
FREE Today!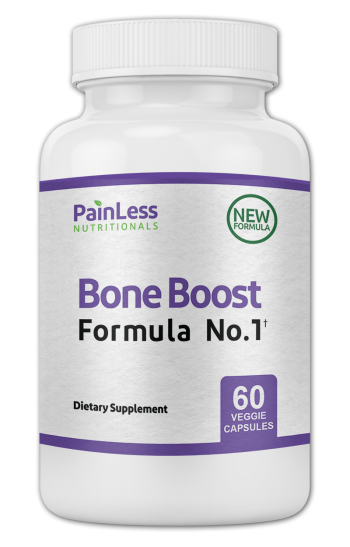 Vitamin K2 and D3 are vitamins you didn't know you needed until you did. As luck would have it, we overstocked on our supply of Bone Boost Formula No. 1, so now we're looking to ship them out as fast as possible by having a Bone Boost Formula No. 1 flash sale.
In the next 24 hours, you can get a bottle of our Bone Boost Formula No. 1 for  FREE (retails for $49). All you gotta do is pay the shipping fee and you can get your Bone Boost Formula No. 1 delivered to you as soon as possible.
Supports bone health.(1)
Supports a healthy immune system(2)
Provides better nutrient absorption.(3)
Supports heart health and better blood flow.(4)
Supply is limited & they will go fast!
Claim your FREE bottle of Bone Boost Formula No. 1 Now
Add more quality to your life
Vitamin K2 is a protein that plays a role in blood clotting, calcium absorption and metabolism, and heart health.[12] Vitamin D3 is what we all know as the sunshine vitamin and is considered a primary nutrient for optimum calcium levels.[13] Without these two, our bones can become unhealthy and our body may not be able to maintain a healthy immune system.[14]
Because of the importance of K2 and D3 in our everyday life, we formulated Bone Boost Formula No. 1 in such a way that it will not only provide the body with a daily dose of the nutrients, but also help it metabolize them properly. Check out what's inside Bone Boost Formula No. 1:
Calcium. Calcium is considered a building block mineral for our bones and teeth. It also supports good blood flow and muscle relaxation especially for the heart(8).
Vitamin D3. This is the best form of vitamin D as it's the form our body produces when we're exposed to sunlight. Despite the abundance of sunlight all year long, many people are deficient in Vitamin D(9) and they don't even know it! It's because we spend most of our lives indoors. Vitamin D is known to promote calcium homeostasis or mineral balance which indirectly strengthens our bones.
Vitamin K2. This vitamin is known to help with blood clotting and wound healing(10). It can also positively affect calcium absorption as well as improve heart health by having better blood flow.
BioPerine. This brand of black pepper is used to amplify nutrient absorption(11) which helps the body utilize every milligram of nutrient per serving of Bone Boost Formula No. 1.
Supply Is Limited And They Will Go Fast
These statements have not been evaluated by the Food and Drug Administration. This product is not intended to diagnose, treat, cure or prevent any disease.
Individual results from taking supplements and/or other products mentioned on this site may vary. Before starting a dietary supplement routine, be sure to consult a qualified healthcare professional. The content on this site does not supplant medical advice and is meant for informational purposes only.
ClickBank is the retailer of products on this site. CLICKBANK® is a registered trademark of Click Sales Inc., a Delaware corporation located at 1444 S. Entertainment Ave., Suite 410 Boise, ID 83709, USA and used by permission. ClickBank's role as retailer does not constitute an endorsement, approval or review of these products or any claim, statement or opinion used in promotion of these products.
Scientific Research & References:
+
Maresz K. Proper Calcium Use: Vitamin K2 as a Promoter of Bone and Cardiovascular Health. Integr Med (Encinitas). 2015;14(1):34–39.
Myneni VD, Mezey E. Immunomodulatory effect of vitamin K2: Implications for bone health. Oral Dis. 2018;24(1-2):67–71. doi:10.1111/odi.12759
Wasilewski GB, Vervloet MG, Schurgers LJ. The Bone-Vasculature Axis: Calcium Supplementation and the Role of Vitamin K. Front Cardiovasc Med. 2019;6:6. Published 2019 Feb 5. doi:10.3389/fcvm.2019.00006
McFarlin BK, Henning AL, Venable AS. Oral Consumption of Vitamin K2 for 8 Weeks Associated With Increased Maximal Cardiac Output During Exercise. Altern Ther Health Med. 2017;23(4):26-32.
Christakos S, Dhawan P, Porta A, Mady LJ, Seth T. Vitamin D and intestinal calcium absorption. Mol Cell Endocrinol. 2011;347(1-2):25–29. doi:10.1016/j.mce.2011.05.038
Bikle DD. Vitamin D and bone. Curr Osteoporos Rep. 2012;10(2):151–159. doi:10.1007/s11914-012-0098-z
Gunville CF, Mourani PM, Ginde AA. The role of vitamin D in prevention and treatment of infection. Inflamm Allergy Drug Targets. 2013;12(4):239–245. doi:10.2174/18715281113129990046
Reid IR, Birstow SM, Bolland MJ. Calcium and Cardiovascular Disease. Endocrinol Metab (Seoul). 2017;32(3):339–349. doi:10.3803/EnM.2017.32.3.339
Naeem Z. Vitamin d deficiency- an ignored epidemic. Int J Health Sci (Qassim). 2010;4(1):V–VI.
Pazyar N, Houshmand G, Yaghoobi R, Hemmati AA, Zeineli Z, Ghorbanzadeh B. Wound healing effects of topical Vitamin K: A randomized controlled trial. Indian J Pharmacol. 2019;51(2):88–92. doi:10.4103/ijp.IJP_183_18\
Prasad S, Tyagi AK, Aggarwal BB. Recent developments in delivery, bioavailability, absorption and metabolism of curcumin: the golden pigment from golden spice. Cancer Res Treat. 2014;46(1):2–18. doi:10.4143/crt.2014.46.1.2
Schwalfenberg GK. Vitamins K1 and K2: The Emerging Group of Vitamins Required for Human Health. J Nutr Metab. 2017;2017:6254836. doi:10.1155/2017/6254836

Iwamoto J, Yeh JK, Takeda T, Sato Y. Effects of vitamin K2 administration on calcium balance and bone mass in young rats fed normal or low calcium diet. Horm Res. 2005;63(5):211-219. doi:10.1159/000085681

Sanaei M, Banasiri M, Shafiee G, et al. Calcium vitamin D3 supplementation in clinical practice: side effect and satisfaction [published correction appears in J Diabetes Metab Disord. 2017 Sep 18;16:39]. J Diabetes Metab Disord. 2016;15:5. Published 2016 Mar 10. doi:10.1186/s40200-016-0227-9
van Ballegooijen AJ, Pilz S, Tomaschitz A, Grübler MR, Verheyen N. The Synergistic Interplay between Vitamins D and K for Bone and Cardiovascular Health: A Narrative Review. Int J Endocrinol. 2017;2017:7454376. doi:10.1155/2017/7454376