Do Not Hit the Back Button As It Will Cause Errors With Your Order
Congratulations On Your Order!
You Now Qualify For Our Exclusive New Customer Discount
91% of our customers also claim their 2 FREE bottles of PainLess Thyroid Support. And now you can take advantage of your new customer savings that lasts through this evening. Simply click the "Buy 1 Get 2 FREE" button below to get your two free bottles.
Extended Offer: Buy 1 Bottle of PainLess Thyroid Support...Get 2 FREE!
If you're here, that means you want to have a healthy future ahead of you. Health is wealth after all, and our product will definitely make your investment worthwhile.
Because we want you to get the most out of your investment, we'll be throwing in two bottles of our PainLess Thyroid Support absolutely free when you purchase just one of our bottles. Yes, buy 1, take 2!
But, why should you buy PainLess Thyroid Support?
For starters, our thyroid - through the hormones it produces - is responsible for a host of everyday bodily processes. These processes involve muscle growth, high quality sleep, weight loss, ageing, and even how efficient our brain works.
Our thyroid, as small as it is, is THAT important, so it's critical to make sure it gets all the nutrients it needs for optimal function.
Now, eating foods rich with pro-thyroid nutrients is always a great way to improve thyroid function, but not everyone has access to these types of food. Not to mention that you would need to be mindful of the actual nutrient content of the food you eat to maximize thyroid health.
This is where PainLess Thyroid Support comes in.
There are countless scientific studies stating that certain ingredients can be beneficial to our thyroid, so what we did is we combined many of them into one, super thyroid blend. And that is how PainLess Thyroid Support was created.
Just take a look at what our formulation can do for your thyroid:
Boost your fat-burning thyroid hormone to supercharge your metabolism and weight loss(1)
Restore youthful energy and stamina(2)
Sharpen your memory and focus(3)
Contains powerful thyroid boosting ingredients(4)
Easy-to-swallow vegetarian capsules
Made in the U.S.A. with 100% natural ingredients – no artificial fillers, flavorings, or colorings; just premium ingredients you can trust. Antibiotic-Free, Vegan, and Non-GMO
Supply is limited & they will go fast!
$147 $49
This is a one-time order today only. No future charges will be made because you are NOT subscribing to anything.
Big things come in small packages, and our thyroid is the perfect example of that statement. Muscle growth, hair volume, how stressed we get, how hungry we are, and our mood are all indirectly related to how healthy our thyroid is. This is why having a healthy thyroid can lead a much better quality of life.
PainLess Thyroid Support was formulated based on what the experts agree on when it comes to ingredients and compounds that help with thyroid health. Here are some of the reasons:
Zinc is key to healthy weight loss. A 2017 study concluded that high levels of T3 and T4, major thyroid hormones, predicted more weight lost in subjects. Naturally, the best way to capitalize on this finding is to include ingredients that elevate T3 and T4 levels. One of them is Zinc. In one study, it was found that zinc deficiency is directly related to low T3 levels(5). This means having adequate levels of Zinc every day is critical for thyroid hormone balance.
Can help lower Iodine deficiency risk. It's no secret that iodine deficiency is linked to thyroid disease. However, what most people don't know is how iodine deficiency can also be a predictor of other mineral deficiencies, namely zinc, selenium, and molybdenum(6). Our formula not only has iodine, but also the three minerals mentioned. So no matter what food you ate that day, you're sure to have a good amount of minerals circulating in your system.
Contains herbal extracts that promote brain function. Our thyroid is important, but so is our brain. The brain sends signals to the thyroid on what hormone to release and how much, so it's critical to make sure our mind is up to speed. Because of this, we added Ashwagandha, an Ayurvedic herb that's been shown to exert positive effects on cognition and focus(7).
Contains B12 and Cayenne for a more efficient energy metabolism. At the end of the day, the body relies on stored fat for energy. Studies show that Vitamin B12 and Cayenne assist the body when it comes to converting fat into energy(8).
Provides anti-stress benefits. Similar to Ashwagandha, Tyrosine is also a compound known to exhibit anti-stress as well as anxiolytic (anti-anxiety) benefits(9). Tyrosine also helps with mood and the feeling of calmness.
Frequently Asked Questions
Q: What is my thyroid and why should I be so concerned about it?
Your thyroid is a small, butterfly-shaped gland located at the base of your throat in front of your windpipe(10). Your thyroid is responsible for creating and releasing important hormones known as your thyroid hormones – primarily triiodothyronine (T3) and thyroxine (T4)(11). These hormones are incredibly important for energy and metabolism function(12), and when they're off balance, you'll feel off balance.
Q: Why is supplementing with the right ingredients so important to both thyroid health and my overall health?
All too often when someone is concerned about maintaining their thyroid health, they look to impact the thyroid hormones (T3 and T4). At first glance, this seems like a logical place to start. If your body is experiencing symptoms, then wouldn't it be a good idea to correct these imbalances(13)?
But this approach is turning out to be short-sighted. If you only target the optimal thyroid hormone balance and do nothing else, you completely disregard what's important in the first place.
To effectively keep your thyroid producing healthy levels of thyroid hormones and prevent further concerns about this important gland, you must ensure it gets the natural ingredients it needs to function optimally.
Q: Are the ingredients in Thyroid Support supplement backed by scientific research?
Yes, numerous studies have been conducted on our supplements' ingredients and their effect on the thyroid. Here are some of the more prominent studies:
Magnesium
Helps support thyroid hormones – Cinar V. The effects of magnesium supplementation on thyroid hormones of sedentars and Tae-Kwon-Do sportsperson at resting and exhaustion. Neuro Endocrinology Letters. 2007; 28(5):708-712.
Zinc and Magnesium
May help support thyroid hormone levels – Baydas B, et al. Effects of oral zinc and magnesium supplementation on serum thyroid hormone and lipid levels in experimentally induced diabetic rats. Biological Trace Element Research. 2002;88(3):247-253.
Magnesium, Selenium
May help support the thyroid – Moncayo R, et al.
Kelp
Helps support thyroid hormone levels – Key TJA, et al. Raised thyroid stimulating hormone associated with kelp intake in British vegan men. Journal of Human Nutrition and Dietetics. 1992.
Helps support thyroid hormones – Clark CD, et al. Effects of kelp supplementation on thyroid function in euthyroid subjects. Endocrine Practice. 2003;9(5):363-369.
Ashwagandha
Ashwagandha effectively improves an individual's resistance to stress and improves self-assessed quality of life – Chandrasekhar K, et al. A prospective, randomized double-blind, placebo-controlled study of safety and efficacy of a high concentration full-spectrum extract of Ashwagandha root in reducing stress and anxiety in adults. Indian J Psychol Med. 2012;34(3):
Ashwagandha resulted in significant improvements in perceived stress, food cravings, happiness, and serum cortisol levels, body weight and body mass index – Choudhary D, et al. Body weight management in adults under chronic stress through treatment with Ashwagandha root extract: a double-blind, randomized, placebo-controlled trial. Journal of Evidence-Based Integrative Medicine. 2016.
Selenium
Helps support the thyroid – Negro R, et al. The influence of selenium supplementation on postpartum thyroid status in pregnant women with thyroid peroxidase autoantibodies. The Journal of Clinical Endocrinology & Metabolism. 2007;92(4):1263-1268.
Helps support the thyroid – Oliviero O, et al. Low selenium status in the elderly influences thyroid hormones. Clinical Science. 1995;89(6):637-642.
Helps support the thyroid – Contempre B, et al. Effect of selenium supplementation on thyroid hormone metabolism in an iodine and selenium deficient population. Clinical Endocrinology. 1992;36(6):579-583.
Copper
Results suggest that a higher copper efficiency could influence iron, iodine, and thyroid hormones (Helps support the thyroid) – Kazi TG, et al. Interaction of copper with iron, iodine, and thyroid hormone status in goitrous patients. Biological Trace Element Research. 2010;134(3):265-279.
Manganese
A diet that is low in Manganese affects growth and thyroid hormone metabolism (Helps support the thyroid) – Eder K, et al. The effect of manganese supply on thyroid hormone metabolism in the offspring of manganese-depleted dams. Biological Trace Element Research. 1996;55:137.
Iodine
Helps support the thyroid – Pederson KM, et al. Amelioration of some pregnancy-associated variations in thyroid function by iodine supplementaion. The Journal of Clinical Endocrinology & Metabolism. 1993;77(4):1078-1083.
Selenium, Iodine
Helps support the thyroid – Thomson CD, et al. Selenium and iodine supplementation: effect on thyroid function of older New Zealanders. The American Journal of Clinical Nutrition. 2009;90(4):1038-1046.
Vitamin B-12
Zinc
Helps support the thyroid – Kilic M, et al. The effect of exhausting exercise on thyroid hormones and testosterone levels of elite athletes receiving oral zinc. Neuro Endocrinology Letters. 2006;27(1-2):247-252.
The results show that zinc may play a role in thyroid hormone metabolism in patients with low T3 and may play a role in the conversion of T4 to T3 (Helps support the thyroid) – Nishiyama S, et al. Zinc supplementation alters thyroid hormone metabolism in disabled patients with zinc deficiency. Journal of the American College of Nutrition. 1994.
Helps support the thyroid – Arthur JR, et al. The effects of selenium depletion and repletion on the metabolism of thyroid hormones in the rat. Journal of Inorganic Biochemistry. 1990;39(2): 101-108.
Q: Is it safe to take Thyroid Support for a long period of time?
So long as the recommended serving is followed, yes. The ingredients in Thyroid Support are mostly made up minerals we ingest through the food we eat every day.
The herbs used also show a good track record of safety.
Tyrosine: L-tyrosine is Generally Recognized as Safe (GRAS) in the USA. When L-tyrosine is used orally and short term at a dose of =150 mg/kg or =12 g per day for up to three months is generally safe.Sources:

CFR – Code of Federal Regulations Title 21. Accessdata.fda.gov. https://www.accessdata.fda.gov/scripts/cdrh/cfdocs/cfcfr/CFRSearch.cfm?fr=172.320. Published 2020. Accessed July 4, 2020.
Jongkees BJ, Hommel B, Kühn S, Colzato LS. Effect of tyrosine supplementation on clinical and healthy populations under stress or cognitive demands–A review. J Psychiatr Res. 2015;70:50-57. doi:10.1016/j.jpsychires.2015.08.014

Schizandra: In literature, Schizandra is said to have no side effects in humans.Sources:

Nowak A, Zaklos-Szyda M, Blasiak J, Nowak A, Zhang Z, Zhang B. Potential of Schisandra chinensis (Turcz.) Baill. in Human Health and Nutrition: A Review of Current Knowledge and Therapeutic Perspectives. Nutrients. 2019;11(2):333. Published 2019 Feb 4. doi:10.3390/nu11020333

Ashwagandha: The only known case of a side effect was when the dosage was at 5,000 mg for 10 days, and caused a burning and itching sensation at the lower part of the body. The dosage used in Thyroid Support is 25x smaller.Other human studies observed zero toxicity.Sources:

Sehgal VN, Verma P, Bhattacharya SN. Fixed-drug eruption caused by ashwagandha (Withania somnifera): a widely used Ayurvedic drug. Skinmed. 2012;10(1):48-49.
Owais M, Sharad KS, Shehbaz A, Saleemuddin M. Antibacterial efficacy of Withania somnifera (ashwagandha) an indigenous medicinal plant against experimental murine salmonellosis. Phytomedicine. 2005;12(3):229-235. doi:10.1016/j.phymed.2003.07.012

Bladderwrack: Researchers conclude Bladderwrack is incapable of inducing toxicity in doses of up to 1,350 mg per day. The dose we used for Thyroid Support is 27x smaller.Sources:

Chung HJ, Jeun J, Houng SJ, Jun HJ, Kweon DK, Lee SJ. Toxicological evaluation of fucoidan from Undaria pinnatifidain vitro and in vivo. Phytother Res. 2010;24(7):1078-1083. doi:10.1002/ptr.3138
Kim KJ, Lee OH, Lee HH, Lee BY. A 4-week repeated oral dose toxicity study of fucoidan from the Sporophyll of Undaria pinnatifida in Sprague-Dawley rats. Toxicology. 2010;267(1-3):154-158. doi:10.1016/j.tox.2009.11.007

Cayenne: Capsaicin holds a Generally Recognized as Safe (GRAS) title for usage in foods. Doses that showed side effects were at doses above 118 mg. Dose used in Thyroid Support is 4x smaller.Sources:

Final report on the safety assessment of capsicum annuum extract, capsicum annuum fruit extract, capsicum annuum resin, capsicum annuum fruit powder, capsicum frutescens fruit, capsicum frutescens fruit extract, capsicum frutescens resin, and capsaicin. Int J Toxicol. 2007;26 Suppl 1:3-106. doi:10.1080/10915810601163939

Kelp: One gram of kelp contains 2,984 mcg of Iodine, which is 2000% of the recommended daily intake, an amount that could result in thyroid problems. However, the dose used in Thyroid Support is at a safe 30 mg, 33x smaller and amounts to only 60% of the recommended daily intake of Iodine.Sources:

Office of Dietary Supplements – Iodine. Ods.od.nih.gov. https://ods.od.nih.gov/factsheets/Iodine-HealthProfessional/#h3. Published 2020. Accessed July 4, 2020.
Q: How long does it take for Thyroid Support to work?
This varies from person to person depending on the current state of their thyroid.
Also,the ingredients used in Thyroid Support are all-natural, meaning they don't immediately impact your thyroid the way drugs and prescription medications do.
Levothyroxine, a drug prescribed for low thyroid activity, generally takes 1 to 3  weeks to work. Because our ingredients are natural and not synthetically designed to produce immediate effects, it's assumed that it would take more than 2 weeks for users to notice significant effects. Some studies suggest it can take up to 8 weeks.
The best way to check is to get tested for thyroid hormones, as Thyroid Support could be improving a person's thyroid health, but at a slow and healthy pace which may not be immediately noticeable.
Sources:
Gannon JM, Forrest PE, Roy Chengappa KN. Subtle changes in thyroid indices during a placebo-controlled study of an extract of Withania somnifera in persons with bipolar disorder. J Ayurveda Integr Med. 2014;5(4):241-245. doi:10.4103/0975-9476.146566
Levothyroxine Sodium Drug Information, Professional. Drugs.com. https://www.drugs.com/mmx/levothyroxine-sodium.html#:~:text=Duration%20of%20therapeutic%20action &text=Levothyroxine%2C%20thyroglobulin%2C%20thyroid%3A%201,Liothyronine%3A%20Up%20to%2072%20hours. Published 2020. Accessed July 4, 2020.
Q: When taking Thyroid Support, how long does it take to lose weight? Also, when you stop taking it, how does it affect the body?
Thyroid Support is first and foremost a thyroid supplement, and not a supplement that was directly meant to function as a weight loss aid. However, if you improve your Iodine intake and get it to healthy, normal levels (and maintain a balanced diet), studies show you can lose weight after four weeks.
We can't directly say exactly what happens when you stop as it varies according to how healthy you are, your diet and general lifestyle, and what the tests show.
What we can say is, if a person didn't change their diet and lifestyle after they stopped taking Thyroid Support, they would eventually revert back to what their health was before they took the supplement.
Source:
Lopez Y, Franco C, Cepeda A, Vázquez B. Constant iodine intake through the diet could improve hypothyroidism treatment: a case report. J Physiol Biochem. 2018;74(1):189-193. doi:10.1007/s13105-017-0605-x
Q: Who is the Thyroid Support supplement designed for?
This supplement is for adult women and men who want to maintain or improve their already normal thyroid health and experience the benefits that may accompany that, such as weight loss(14), improved energy(15) and clearer thinking(16). Thyroid Support will help middle aged and older adults, as well as younger adults who want to take better care of their thyroid.
Q: What makes Thyroid Support supplement better than the competition?
This supplement is 100% natural and made using only ingredients that are tested for purity and quality – no artificial fillers, flavorings, or colorings; just premium ingredients you can trust. This product is also made in the USA!
Q: How long will today's offer on this page be available?
Due to the popularity of this special offer, supply is extremely limited and they will go fast. Unfortunately, today's special offer can't last forever and are not guaranteed past today.
Q: What if the Thyroid Support supplement doesn't work for me?
If you are not satisfied with the Thyroid Support, you can request a full refund of the product price for products returned to us within 60 days. Just send an email to support@PainlessNutritionals.com or call (888) 947-3780 and we will provide a timely and complete refund of your purchase price. No questions asked.
Q: I want to improve my thyroid health. What is the next step?
The first step is to click the order button above. You will be taken to our secure order page where you will provide your shipping and payment details. You will also receive 2 special thyroid-boosting gifts with your order!
Q: What are the ingredients in Thyroid Support?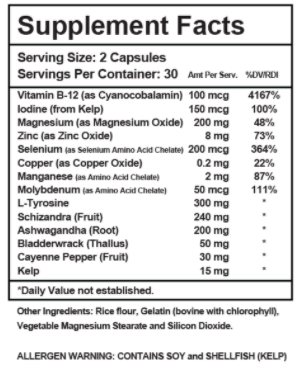 To check the complete supplement facts and ingredients, click here.
Q: How do I take Thyroid Support?
As a dietary supplement, adults take two capsules daily, preferably with a meal.
CAUTION: This product is manufactured and packaged in a facility which may also process milk, soy, wheat, egg, peanuts, tree nuts, fish and crustacean shellfish.
KEEP OUT OF THE REACH OF CHILDREN. DO NOT USE IF SAFETY SEAL IS DAMAGED OR MISSING. STORE IN A COOL, DRY PLACE.
Do not exceed recommended dose. Pregnant or nursing mothers, children under 18, and individuals with a known medical condition should consult a physician before using this or any dietary supplement.
Q: Are there any side effects?
No, there are no known side effects of taking Thyroid Support. It is made from all natural thyroid-friendly ingredients.
Please be aware: While there have been no reported side effects, you should always consult with your physician before taking any dietary supplement. Do not exceed recommended dose.
If you have a known medical condition or have questions about the advisability of taking this product, consult with your physician prior to using this or any dietary supplement. This product is manufactured and packaged in a facility which may also process milk, soy, wheat, egg, peanuts, tree nuts, fish and crustacean shellfish.
Q: I clicked the order button and it said "out of stock" - What now?
Because this is a brand new formula, we only have a limited amount of bottles to give away at today's extremely discounted price. If you click a link on this page and see that we are out of stock, please contact us at support@PainlessNutritionals.com or call us at (888) 947-3780 to get on the notification list, and we'll honor the sale price when we get more in stock, even if it's in 6 months!
Q: Is there a risk-free, money-back guarantee?
Absolutely. You can experience Thyroid Support first – THEN fully decide if it's right for you. Try Thyroid Support on us for at least 60 days and after an honest try, if you're not thrilled, simply reach out to our team to request for refund. Rest assured you can complete your order today knowing that you're 100% protected by our risk-free guarantee.
Please contact our Customer Service Team before you return anything. You can send an email to support@PainlessNutritionals.com or call (888) 947-3780. We will get back to you within 1 business day. Please describe the issue in detail, including the return reason, along with your name and email address used in placing your order, your order number, and name of the purchased product.
Q: How quickly will my Thyroid Support order be shipped to me?
Your order has been instantaneously sent to our warehouse. It will take the warehouse an approximate time frame of 1 to 3 business days to get your order ready and shipped out.
Below is the estimated delivery time for the United States and other countries.
| | |
| --- | --- |
| Location | Delivery Time |
| Continental United States | 5 to 7 Business Days |
| North America (Canada, Mexico, Rest of the USA) | 7 to 14 Business Days |
| Rest of the World | 14 to 21 Business Days |
*Business days are Monday to Friday, excluding holidays.
Are there other questions we can answer about your order? Please contact us at support@PainlessNutritionals.com or call us at (888) 947-3780 and we'll be happy to help.
Q: After I order today, will anything else be sent or billed to me?
Absolutely not. This is a one-time transaction today only. No future charges will be made because you are NOT subscribing to anything.
Q: How will my order appear on my bank statement?
Your purchase will appear on your bank statement from our secure merchant under the name "CLKBANK*COM".
Q: Can I buy Thyroid Support anywhere else?
No. Thyroid Support is currently only available on this secure page. This way we can maintain our highly praised customer service and lowest rock bottom prices.
Supply Is Limited And They Will Go Fast
This is a one-time order today only. No future charges will be made because you are NOT subscribing to anything.
Resources
+
Liu G, Liang L, Bray GA, et al. Thyroid hormones and changes in body weight and metabolic parameters in response to weight loss diets: the POUNDS LOST trial. Int J Obes (Lond). 2017;41(6):878‐886. doi:10.1038/ijo.2017.28
Yavuz S, Salgado Nunez Del Prado S, Celi FS. Thyroid Hormone Action and Energy Expenditure. J Endocr Soc. 2019;3(7):1345‐1356. Published 2019 May 16. doi:10.1210/js.2018-00423
Grigorova M, Sherwin BB. Thyroid hormones and cognitive functioning in healthy, euthyroid women: a correlational study. Horm Behav. 2012;61(4):617‐622. doi:10.1016/j.yhbeh.2012.02.014
B12
Jabbar A, Yawar A, Waseem S, et al. Vitamin B12 deficiency common in primary hypothyroidism [published correction appears in J Pak Med Assoc. 2009 Feb;59(2):126. Wasim, Sabeha [corrected to Waseem, Sabiha]]. J Pak Med Assoc. 2008;58(5):258‐261.

Iodine
Chung HR. Iodine and thyroid function. Ann Pediatr Endocrinol Metab. 2014;19(1):8‐12. doi:10.6065/apem.2014.19.1.8

Magnesium
Wang K, Wei H, Zhang W, et al. Severely low serum magnesium is associated with increased risks of positive anti-thyroglobulin antibody and hypothyroidism: A cross-sectional study. Sci Rep. 2018;8(1):9904. Published 2018 Jul 2. doi:10.1038/s41598-018-28362-5

Zinc
Betsy A, Binitha M, Sarita S. Zinc deficiency associated with hypothyroidism: an overlooked cause of severe alopecia. Int J Trichology. 2013;5(1):40‐42. doi:10.4103/0974-7753.114714

Selenium
Ventura M, Melo M, Carrilho F. Selenium and Thyroid Disease: From Pathophysiology to Treatment. Int J Endocrinol. 2017;2017:1297658. doi:10.1155/2017/1297658

Copper
Aihara K, Nishi Y, Hatano S, et al. Zinc, copper, manganese, and selenium metabolism in thyroid disease. Am J Clin Nutr. 1984;40(1):26‐35. doi:10.1093/ajcn/40.1.26

Manganese
Memon NS, Kazi TG, Afridi HI, et al. Correlation of manganese with thyroid function in females having hypo- and hyperthyroid disorders. Biol Trace Elem Res. 2015;167(2):165‐171. doi:10.1007/s12011-015-0277-8

Molybdenum
Luca E, Fici L, Ronchi A, et al. Intake of Boron, Cadmium, and Molybdenum enhances rat thyroid cell transformation. J Exp Clin Cancer Res. 2017;36(1):73. Published 2017 Jun 2. doi:10.1186/s13046-017-0543-z

Tyrosine
Khaliq W, Andreis DT, Kleyman A, Gräler M, Singer M. Reductions in tyrosine levels are associated with thyroid hormone and catecholamine disturbances in sepsis. Intensive Care Med Exp. 2015;3(Suppl 1):A686. Published 2015 Oct 1. doi:10.1186/2197-425X-3-S1-A686

Ashwagandha
Gannon JM, Forrest PE, Roy Chengappa KN. Subtle changes in thyroid indices during a placebo-controlled study of an extract of Withania somnifera in persons with bipolar disorder. J Ayurveda Integr Med. 2014;5(4):241‐245. doi:10.4103/0975-9476.146566

Kelp
Clark CD, Bassett B, Burge MR. Effects of kelp supplementation on thyroid function in euthyroid subjects. Endocr Pract. 2003;9(5):363‐369. doi:10.4158/EP.9.5.363

Ertek S, Cicero AF, Caglar O, Erdogan G. Relationship between serum zinc levels, thyroid hormones and thyroid volume following successful iodine supplementation. Hormones (Athens). 2010;9(3):263‐268. doi:10.14310/horm.2002.1276
Çelik T, Savaş N, Kurtoğlu S, et al. Iodine, copper, zinc, selenium and molybdenum levels in children aged between 6 and 12 years in the rural area with iodine deficiency and in the city center without iodine deficiency in Hatay. Turk Pediatri Ars. 2014;49(2):111‐116. Published 2014 Jun 1. doi:10.5152/tpa.2014.1209
Chandrasekhar K, Kapoor J, Anishetty S. A prospective, randomized double-blind, placebo-controlled study of safety and efficacy of a high-concentration full-spectrum extract of ashwagandha root in reducing stress and anxiety in adults. Indian J Psychol Med. 2012;34(3):255‐262. doi:10.4103/0253-7176.106022
Janssens PL, Hursel R, Martens EA, Westerterp-Plantenga MS. Acute effects of capsaicin on energy expenditure and fat oxidation in negative energy balance. PLoS One. 2013;8(7):e67786. Published 2013 Jul 2. doi:10.1371/journal.pone.0067786
Jongkees BJ, Hommel B, Kühn S, Colzato LS. Effect of tyrosine supplementation on clinical and healthy populations under stress or cognitive demands--A review. J Psychiatr Res. 2015;70:50‐57. doi:10.1016/j.jpsychires.2015.08.014
InformedHealth.org [Internet]. Cologne, Germany: Institute for Quality and Efficiency in Health Care (IQWiG); 2006-. How does the thyroid gland work? 2010 Nov 17 [Updated 2018 Apr 19]. Available from: https://www.ncbi.nlm.nih.gov/books/NBK279388/
Saxena J, Singh PN, Srivastava U, Siddiqui AQ. A study of thyroid hormones (t(3), t(4) & tsh) in patients of depression. Indian J Psychiatry. 2000;42(3):243‐246.
McAninch EA, Bianco AC. Thyroid hormone signaling in energy homeostasis and energy metabolism. Ann N Y Acad Sci. 2014;1311:77‐87. doi:10.1111/nyas.12374
Moura Neto A, Zantut-Wittmann DE. Abnormalities of Thyroid Hormone Metabolism during Systemic Illness: The Low T3 Syndrome in Different Clinical Settings. Int J Endocrinol. 2016;2016:2157583. doi:10.1155/2016/2157583
Liu G, Liang L, Bray GA, et al. Thyroid hormones and changes in body weight and metabolic parameters in response to weight loss diets: the POUNDS LOST trial. Int J Obes (Lond). 2017;41(6):878‐886. doi:10.1038/ijo.2017.28
Yavuz S, Salgado Nunez Del Prado S, Celi FS. Thyroid Hormone Action and Energy Expenditure. J Endocr Soc. 2019;3(7):1345‐1356. Published 2019 May 16.doi:10.1210/js.2018-00423
Grigorova M, Sherwin BB. Thyroid hormones and cognitive functioning in healthy, euthyroid women: a correlational study. Horm Behav. 2012;61(4):617‐622. doi:10.1016/j.yhbeh.2012.02.014
B12Jabbar A, Yawar A, Waseem S, et al. Vitamin B12 deficiency common in primary hypothyroidism [published correction appears in J Pak Med Assoc. 2009 Feb;59(2):126. Wasim, Sabeha [corrected to Waseem, Sabiha]]. J Pak Med Assoc. 2008;58(5):258‐261.

Iodine
Chung HR. Iodine and thyroid function. Ann Pediatr Endocrinol Metab. 2014;19(1):8‐12. doi:10.6065/apem.2014.19.1.8

Magnesium
Wang K, Wei H, Zhang W, et al. Severely low serum magnesium is associated with increased risks of positive anti-thyroglobulin antibody and hypothyroidism: A cross-sectional study. Sci Rep. 2018;8(1):9904. Published 2018 Jul 2. doi:10.1038/s41598-018-28362-5

Zinc
Betsy A, Binitha M, Sarita S. Zinc deficiency associated with hypothyroidism: an overlooked cause of severe alopecia. Int J Trichology. 2013;5(1):40‐42. doi:10.4103/0974-7753.114714

Selenium
Ventura M, Melo M, Carrilho F. Selenium and Thyroid Disease: From Pathophysiology to Treatment. Int J Endocrinol. 2017;2017:1297658. doi:10.1155/2017/1297658

Copper
Aihara K, Nishi Y, Hatano S, et al. Zinc, copper, manganese, and selenium metabolism in thyroid disease. Am J Clin Nutr. 1984;40(1):26‐35. doi:10.1093/ajcn/40.1.26

Manganese
Memon NS, Kazi TG, Afridi HI, et al. Correlation of manganese with thyroid function in females having hypo- and hyperthyroid disorders. Biol Trace Elem Res. 2015;167(2):165‐171. doi:10.1007/s12011-015-0277-8

Molybdenum
Luca E, Fici L, Ronchi A, et al. Intake of Boron, Cadmium, and Molybdenum enhances rat thyroid cell transformation. J Exp Clin Cancer Res. 2017;36(1):73. Published 2017 Jun 2. doi:10.1186/s13046-017-0543-z

Tyrosine
Khaliq W, Andreis DT, Kleyman A, Gräler M, Singer M. Reductions in tyrosine levels are associated with thyroid hormone and catecholamine disturbances in sepsis. Intensive Care Med Exp. 2015;3(Suppl 1):A686. Published 2015 Oct 1. doi:10.1186/2197-425X-3-S1-A686

Ashwagandha
Gannon JM, Forrest PE, Roy Chengappa KN. Subtle changes in thyroid indices during a placebo-controlled study of an extract of Withania somnifera in persons with bipolar disorder. J Ayurveda Integr Med. 2014;5(4):241‐245. doi:10.4103/0975-9476.146566Kelp
Clark CD, Bassett B, Burge MR. Effects of kelp supplementation on thyroid function in euthyroid subjects. Endocr Pract. 2003;9(5):363‐369. doi:10.4158/EP.9.5.363
Liu G, Liang L, Bray GA, et al. Thyroid hormones and changes in body weight and metabolic parameters in response to weight loss diets: the POUNDS LOST trial. Int J Obes (Lond). 2017;41(6):878‐886. doi:10.1038/ijo.2017.28
Betsy A, Binitha M, Sarita S. Zinc deficiency associated with hypothyroidism: an overlooked cause of severe alopecia. Int J Trichology. 2013;5(1):40‐42. doi:10.4103/0974-7753.114714Ventura M, Melo M, Carrilho F. Selenium and Thyroid Disease: From Pathophysiology to Treatment. Int J Endocrinol. 2017;2017:1297658. doi:10.1155/2017/1297658
Grigorova M, Sherwin BB. Thyroid hormones and cognitive functioning in healthy, euthyroid women: a correlational study. Horm Behav. 2012;61(4):617‐622. doi:10.1016/j.yhbeh.2012.02.014
Avraham Y, Hao S, Mendelson S, Berry EM. Tyrosine improves appetite, cognition, and exercise tolerance in activity anorexia. Med Sci Sports Exerc. 2001;33(12):2104‐2110. doi:10.1097/00005768-200112000-00020
Singh N, Bhalla M, de Jager P, Gilca M. An overview on ashwagandha: a Rasayana (rejuvenator) of Ayurveda. Afr J Tradit Complement Altern Med. 2011;8(5 Suppl):208‐213. doi:10.4314/ajtcam.v8i5S.9