Do Not Hit the Back Button As It Will Cause Errors With Your Order
Add 2 Drops To Your Rapid Diet Smoothies To Boost Morning Metabolism & Lose Even More Fat
Hi, it's Derek again and you're one step closer to getting started with the 20-Day Rapid Smoothie Diet.
But there's something really important I want to share with you before you get started on the plan.
Now, make sure you stay on this page…
And please don't hit the "back" button or accidentally close out of this page because you're in the right place.
Right now our team is putting the finishing touches on your Rapid Smoothie Diet order.
But before we do that, I have a quick story to share...
Mom Loses 112lbs Drinking Green Tea
"My Metabolism Shot Through the Roof and I Didn't Do Much Else."
Have you ever read Good Housekeeping magazine?
I have and I came across a story about a mom…
Who said she lost 112lbs by simply drinking more green tea.
After giving birth to her daughter…
Mary Berry could barely fit into a size 18.
At her heaviest after splitting with her boyfriend…
The newly single mom developed an unhealthy relationship with food…
And barely left the house.
Soon, she became depressed with how she looked.
Determined to get the weight off…
She started researching online and found that green tea can help boost metabolism and slow down weight gain.
And it's true.
A Chinese Study Found that Drinking Green Tea Daily Helped Decrease Belly Fat and Waist Size
Here's why…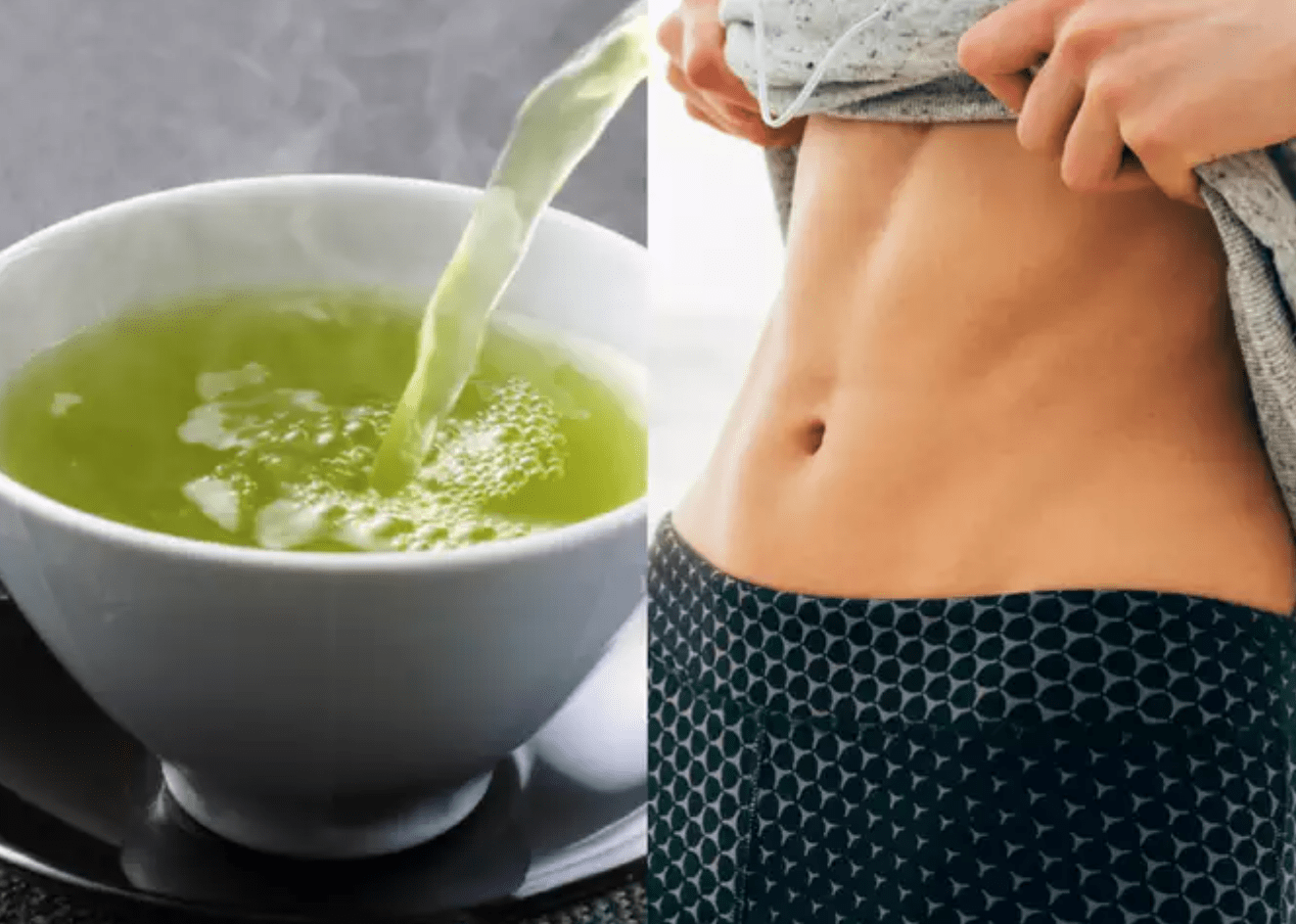 The super-powered ingredient is a catechin called epigallocatechin gallate (EGCG)...
Which is believed to increase metabolism and help burn fat.
A study published in the International Journal of Obesity revealed that the EGCG and caffeine in green tea…
….works together to increase weight loss and weight maintenance.
While another study showed that the catechins in green tea...
...can help speed up the rate at which the body burns fat.
The Newly Single Mom Started Drinking Two Cups of Green Tea Every Day
"I am certain I lost the first 42lbs drinking green tea alone", she told the Daily Mail.
"My metabolism just went through the roof and I hadn't done much else."
She now weighs 126 pounds, and said…
"I was measuring my waist and it was getting smaller and smaller and I wasn't doing any exercise."
And as the weight started coming off…
She cut back on the junk food and simply started walking more.
Which got me thinking…
How Can You Get the Same Fat-Burning Results Without Having To Drink Tea All Day Long?
Look, I love my morning tea…
And I've been drinking green tea for years…
All throughout my own personal 41 pound weight loss.
However, I know most people don't like the taste…
Or that it's too bland and boring to consistently drink day after day…
Plus you have to drink A LOT of it to really get the benefits.
Like a flatter stomach…
And a smaller waistline…
So I rolled up my sleeves…
Started researching around the clock…
And came up with something brand NEW that's never been done before…
To transform your health in a way that's sustainable long term…
Without restrictive dieting, tons of exercise, or drinking gallons of green tea every day.
After Pouring Over Dozens of Studies...
With people losing so much extra weight…
Just by drinking more green tea…
I started doing my own research.
If EGCG was the main benefit in green tea that was driving all this weight loss…
Then what if we took that powerful nutrient…
And all the other metabolism-boosting benefits of green tea leaves...
And took it like a vitamin?
That way you wouldn't have to drink tea all day long.
And that's exactly what I did.
I took the main metabolism-boosting, fat-burning benefits of EGCG…
And combined it with three other nutritional powerhouses…
To make a powerful health-boosting formula…
That you can simply add to your smoothies for even faster results.
Introducing: Immune Boost Formula #1
Look, the best way to boost your health, lose weight and keep it off for good…
...is by eating a balanced and healthy diet…
However, that's easier said than done.
And to be honest…
While I would love for you to eat lots of protein and veggies at every meal…
With the economy, people's lifestyles, and budget, I know that's not always possible.
And I don't want you to be burdened with maintaining a perfect diet in order to get results.
That's why we put together this brand new formula…
That's not only packed with green tea extract…
But three other nutritional powerhouses that make this formula unlike anything else out there today.
Each bottle of Immune Boost Formula #1 is packed with:
Powerhouse Ingredient #1: Green Tea Extract
Hopefully by now you know how powerful green tea is…
And it's why I've been drinking it daily for years.
Heck, even a study from the University of Maryland Medical Centre showed that it helps boost weight loss…
However, I know you may not like the taste…
And you have to drink A LOT of it in order to get the best results possible…
Which is why we got it down to it's purest extract form…
So that you get all the amazing benefits of green tea…
Plus all the antioxidants…
Within just a drop or two.
When Taiwanese researchers studied more than 1,100 people over a 10-year period…
They found that those who drank tea had 19.6% less body fat than those who drank
Powerhouse Ingredient #2: Turmeric
There's a reason I add turmeric to my eggs every morning…
According to researchers at Tufts University in Massachusetts…
Enjoying a turmeric-rich drink daily will help you shrink fat stores by up to 47% in just three months…
They explain that curcumin, a polyphenol in the spice, blocks the growth of blood vessels that supply fat tissue...
...prompting the body to burn fat instead of store it.
Even better...
Curcumin causes fat cells to self-destruct.
A study in the journal Drug Research showed that:
Those given a dose of turmeric daily lost 6.6 times more body fat and 7.6 times more belly fat than those who didn't get the spice.
Plus, turmeric is widely known to help reduce and limit inflammation in the body.
However, just like green tea…
You have to use A LOT of turmeric in order to get the health and weight loss benefits…
And with its pungent taste, it's hard to add to every meal.
That's why we included enough turmeric in Immune Boost Formula #1…
To make sure you get all the benefits…
By just adding a drop or two to your smoothies…
Without the strong taste.
Powerhouse Ingredient #3: Vitamin C
With everything that's going on in the world today....
It's easy to see that people's immune systems are getting compromised fast.
And one reason is because we're not getting nearly enough vitamin C and B6.
It's not your fault…
Because the truth is…
You have to eat so many fruits and vegetables just to get enough of these vitamins, and…
I don't know about you…
But I don't want to have broccoli, cauliflower and kale for every meal.
And while vitamin C supplements are very popular…
Most of them are made up of fillers, artificial ingredients and other cheap ingredients that don't really do anything.
Plus, the big brand companies basically make them to taste like candy…
So you eat more of them…
And buy more of them…
Even though they aren't really doing much to improve your health.
Powerhouse Ingredient #4: Tulsi Indian Holy Basil
This is the secret weapon because I don't know of anything that contains Tulsi Indian Holy Basil, and yet…
This green, leafy plan from Southeast Asia has been shown to:
Reduce stress and anxiety
Enhance metabolism
Reduce sleep problems
Reduce sexual problems
Help with exhaustion and forgetfulness
Help lower blood sugar
And it's antibacterial, antiviral, anti-fungal, and anti-inflammatory.
When You Combine All 4 Nutritional Powerhouses Together, You Get an All-In-One Body Defense Solution You Can't Find Anywhere Else
And don't worry...
It's 100% Non-GMO…
Vegetarian…
It's manufactured in a CGMP facility approved by the FDA…
It's clinically validated by research-based doses…
It's been through rigorous third party testing for quality assurance…
It's manufactured using a unique "clean filtering" process to preserve nutrients in each dose so they never become contaminated…
And it's made with 100% pure plant extracts.
And When You Add Just 2 Drops To Your Smoothies...
Your Results Will Shoot Through the Roof
At this point you're probably wondering…
Derek, do I really need this?
Look, I already know you're going to get great results with the Rapid Smoothie Diet…
However, it does lack green tea, turmeric and Tulsi Indian holy basil.
I'm sorry, I just couldn't come up with any turmeric smoothie recipes that actually tasted good.
So if you want even better and longer lasting results…
With a handful of nutrients and vitamins that help slim your waistline…
Then adding a few drops of Immune Boost Formula #1 to your smoothies, soups and broths will do just that.
It helps you get results so much faster…
Without adding in any extra "work".
Now, Here's a Secret Tip...
If you want faster results…
Add a few drops to your morning smoothie or coffee...
But if you want even faster results…
By getting more EGCG, turmeric and holy basil into your body…
Then you'll want to add a few drops to your smoothies, soups, even your water or unsweetened iced tea through the day as well.
Think of it like this…
If you get paid extra at your job to work overtime…
And you're in need of some extra money FAST…
Then you'd much rather work 5 hours of overtime instead of just one…
Because you're going to receive 5 times as much money.
It's the same with Immune Boost Formula #1.
Adding a few drops to your smoothie is a great start…
But for even better results…
Add it in throughout the day as much as possible.
It doesn't have any flavor…
And it mixes easily….
So you won't notice or taste a difference…
Until you start seeing the changes in the mirror.
Get Your Hands On Immune Boost Formula #1 Isn't As Easy As You May Think
The truth is, there are only a limited number of bottles available at any given time…
Remember, we only use the purest forms of green tea extract, turmeric and Tulsi Indian Holy Basil available.
Our supplier is by far the most reputable and most trusted manufacturer in the entire industry.
So while other companies produce inferior products at a much faster rate…
We take our time.
We only use the cleanest and purest ingredients…
And we constantly test our formula with third-party agencies to make sure you're getting the most effective formula possible.
This process is crucial for producing the best four-in-one formula on the market today.
And that takes a lot of time, money and patience.
As a health coach, I just can't stand behind a product that cuts corners.
So while others may do that, we go in the opposite direction.
Because of this, we do not have a large warehouse filled with inventory…
In fact, at any given time, we only have a very limited supply of Immune Boost #1 on hand.
That means that we're always at risk of running out of stock.
Because we can only produce a limited number of bottles at any given time.
Plus, with the unexpected popularity of the 20-Day Rapid Smoothie Diet…
Women and Men All Over The World Are Adding It To Their Smoothies
As a result, most of our recent Rapid Smoothie Diet customers end up ordering several bottles at a time.
So they can remain stocked up and keep their bodies burning fat for months in a row.
And they usually end up giving some to their friends and family too.
Don't get me wrong, I'm thrilled that so many people are using Immune Boost #1 around the world…
But it's incredible popularity has put a strain on the amount we can produce at any given time, given our safety and quality standards.
Which has caused us to run out almost every month.
As soon as we get a new shipment in, it's usually gone within just a few days.
With that being said, I don't want you to miss out…
Which is why I'm going to share with you how you can get your hands on a heavily discounted bottle of Immune Boost #1 today…
Before I Get To That, You're Probably Wondering What's the Best Way to Use Immune Boost Formula #1?
It's actually pretty straightforward.
Just put three drops in your daily smoothies, coffee or tea…
For at least 30 days.
Now, here's why it's important to use it for at least 30 days.
From the moment you take your first dose of Immune Boost #1, you're going to feel a difference.
It's like having an empty tank and filling it up with gas.
As you combine it with the rapid fat loss smoothies…
Your body is going to start burning more fat…
Your weight is going to go down…
And your waist will start getting smaller.
So while you will start burning fat on Day #1…
The more you use it, the better your results will be.
It's like changing your diet…
Sure, doing it for a day or two will help get you going in the right direction…
But the longer you stick with it, the more dramatic your results will be.
It's Best If You Look At Immune Boost Formula #1 Like Your Daily Multi-Vitamin
Something you take every day as part of your normal, every day routine.
And you can add it to your coffee, drinks, and soups for an extra boost throughout the day.
That's why I personally recommend you choose at least 3 bottles of Immune Boost #1 to get started…
And 6 bottles if you want to have the greatest health benefits.
A single bottle of Immune Boost will start getting the green tea, turmeric, Tulsi Indian Holy Basil…
Along with the vitamin C and B6 into your system, so it can work its magic.
While continuing to use Immune Boost #1 in your smoothies for a full three months will keep you burning fat for at least 90 days in a row…
And when you commit to using Immune Boost #1 for a full six months, that's when the life-changing results start to happen…
Because your body is constantly burning fat for energy day after day…
And it's that consistency that delivers truly amazing results.
The good news is…
When we first introduced this formula to our Rapid Smoothie dieters, they were paying $69.95 per bottle.
And based on their results, they would tell you it's well worth it.
However, right now you can get your own supply of Immune Boost #1 at our biggest discount ever.
Here's how it works…
Since the Three and Six Bottle Packages Have Become So Popular
I Wanted To Give You a Surprise Discount for Putting Your Trust In Me
It really does mean a lot and I don't take it lightly.
So instead of having to pay $97 per bottle, when you choose the 6 bottle package, you will you get all six bottles for just $34 each… 
Which is an instant savings of 65%....
And if you choose the three month supply…
You'll get the heavily discounted rate of just $39 a bottle…
Which is an instant savings of 60%.
So you can keep your body burning fat around the clock for a full three months.
We also applied a discount to the one month supply as well. 
The savings aren't as significant as the six and three month options, but it's still a great deal.
And don't worry, when you pick up your supply of Immune Boost #1 today, you will not be enrolled in some automatic billing subscription.
I find those just as annoying and frustrating as you do.
You will only be billed for what you buy, and you will never be billed again unless you place another order.
Just know, we're only offering you this special price because you already invested in the Rapid Smoothie Diet program.
Which tells me that you're serious about your health.
You can't get this anywhere else except for right now on this page.
And with our limited supply, if you try to come back later, I can't guarantee we'll have any left in stock.
It's usually at least three months until we can get a new shipment in, and I'd hate for you to wait that long.
Supply Is Limited And They Will Go Fast!
Stock Up On Immune Boost Formula #1 And Save BIG!
This one-time offer is only available today before you leave this page. It will never be offered again. This is the absolutely rock bottom price you will ever pay for this premium Immune Boost formula.
Try a Bottle On Us and If You Don't Like It, You Pay Nothing
So if you're ready to boost your health and lose the extra weight...
And do it in record time…
Then you need to take action right now.
And here's the best part.
You don't even have to decide today.
That's because your purchase of Immune Boost #1 is backed by our industry-leading, 60-day, no questions asked money back guarantee.
That means, if you're unhappy for any reason, simply return any empty or unused bottles and you'll receive a full refund with no questions asked.
That way you only pay if it works for you.
We Currently Only Have 140 Discounted Bottles In Stock
So choose the six bottle option below, or whatever package works best for you…
Before we run out.
Because if you try to come back…
We'll probably have the "Currently Out of Stock" banner across the top of this page.
And you'll have to wait another 1-3 months to place your order.
Choose your savings now and I'll be here ready to help.
The experts at PainLess Nutritionals will get your order of Immune Boost Formula #1 in the mail as soon as you reserve your jars.
It usually takes 5-7 business days to arrive.
When the package is dropped off at your door...
Go ahead and tear it open...
And add a few drops to your morning coffee, tea or your smoothies.
It mixes easily and there is no after taste.
You'll notice a difference with each day that passes by.
Frequently Asked Questions
Q: How much is the shipping costs for the additional bottles?
Please note that because of the additional weight of the 3 more bottles of the Immune Boost Formula No. 1, customers will also need to pay for the added shipping costs.
Also, note that your order has been instantaneously sent to our warehouse. It will take the warehouse an approximate time frame of 1 to 3 business days to get your order ready and shipped out.
Below is the shipping and handling costs for the additional bottles as well as the estimated delivery time for the United States and other countries.
| | | |
| --- | --- | --- |
| Location | Shipping & Handling Costs | Delivery Time |
| Continental United States | $9.95 | 5 to 7 Business Days |
| US Protectorates | $14.95 | 5 to 7 Business Days |
| Other Countries | $24.95 | 14 to 21 Business Days |
*Business days are Monday to Friday, excluding holidays.
**Customers are charged in USD
Are there other questions we can answer about your order? Please contact us at support@PainlessNutritionals.com or call us at (888) 947-3780 and we'll be happy to help.
Q: Who is the Immune Boost Formula No. 1 supplement designed for?
This supplement is for adult women and men who want to take charge of their health and immunity to disease beyond diet and exercise. The supplement is formulated specifically to support an already healthy lifestyle or help fill gaps that their diet and exercise programs may not be addressing.
This product is also designed for those who hate the "capsule" after taste or smell, as well as for those who find capsule bottles too large to fit into their bags. The portability and ease of use of Immune Boost Formula No. 1 is the best there is.
Q: What are the ingredients in Immune Boost Formula No. 1?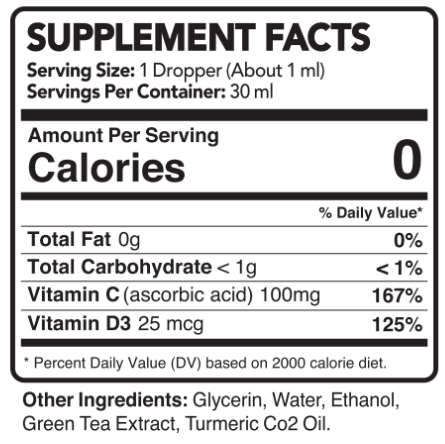 Q: How do I take Immune Boost Formula No.1?
Suggested use: Shake well before use. Add 1 Serving to water or juice, or as needed.
KEEP OUT OF THE REACH OF CHILDREN. DO NOT USE IF SAFETY SEAL IS DAMAGED OR MISSING. STORE IN A COOL, DRY PLACE.
Do not exceed the recommended dose. Pregnant or nursing mothers, children under 18, and individuals with a known medical condition should consult a physician before using this or any dietary supplement.
Q: Are there any side effects?
No, there are no known side effects of taking Immune Boost Formula No.1. It is made from all natural ingredients.
Please be aware: While there have been no reported side effects, you should always consult with your physician before taking any dietary supplement. Do not exceed the recommended dose.
If you have a known medical condition or have questions about the advisability of taking this product, consult with your physician prior to using this or any dietary supplement.
Q: Can I buy Immune Boost Formula No.1 anywhere else?
No. Immune Boost Formula No.1 is currently only available on this secure page. This way we can maintain our highly praised customer service and lowest rock bottom prices.
Q: Is there a risk-free, money-back guarantee?
Absolutely. You can experience Immune Boost Formula No. 1 first – THEN fully decide if it's right for you. Try Immune Boost Formula No. 1 on us for at least 60 days and after an honest try, if you're not thrilled, simply contact us at support@PainlessNutritionals.com or call (888) 947-3780 and we'll gladly provide a timely and complete refund with no questions asked.
So, rest assured you can complete your order today knowing that you're 100% protected by our risk-free guarantee.
Q: How quickly will my order be shipped to me?
Our products typically arrive within 5 – 7 business days for orders within the U.S and between 14 – 21 business days for International orders.
For tracking information and delivery status of your order, please contact us at support@PainlessNutritionals.com or call (888) 947-3780.
Q: How will my order appear on my bank statement?
Your purchase will appear on your bank statement from our secure merchant under the name "CLKBANK*COM".
Supply Is Limited And They Will Go Fast!
Stock Up On Immune Boost And Save BIG! 
These statements have not been evaluated by the Food and Drug Administration. This product is not intended to diagnose, treat, cure or prevent any disease.
ClickBank is the retailer of products on this site. CLICKBANK® is a registered trademark of Click Sales Inc., a Delaware corporation located at 1444 S. Entertainment Ave., Suite 410 Boise, ID 83709, USA and used by permission. ClickBank's role as retailer does not constitute an endorsement, approval or review of these products or any claim, statement or opinion used in promotion of these products.
Resources:
+
Song H, Zhang L, Luo Y, Zhang S, Li B. Effects of collagen peptides intake on skin ageing and platelet release in chronologically aged mice revealed by cytokine array analysis. J Cell Mol Med. 2018;22(1):277–288. doi:10.1111/jcmm.13317
Varani J, Dame MK, Rittie L, et al. Decreased collagen production in chronologically aged skin: roles of age-dependent alteration in fibroblast function and defective mechanical stimulation. Am J Pathol. 2006;168(6):1861–1868. doi:10.2353/ajpath.2006.051302
Tak YJ, Kim YJ, Lee JG, et al. Effect of Oral Ingestion of Low-Molecular Collagen Peptides Derived from Skate (Raja Kenojei) Skin on Body Fat in Overweight Adults: A Randomized, Double-Blind, Placebo-Controlled Trial. Mar Drugs. 2019;17(3):157. Published 2019 Mar 7. doi:10.3390/md17030157
Akbari M, Lankarani KB, Tabrizi R, et al. The Effects of Curcumin on Weight Loss Among Patients With Metabolic Syndrome and Related Disorders: A Systematic Review and Meta-Analysis of Randomized Controlled Trials. Front Pharmacol. 2019;10:649. Published 2019 Jun 12. doi:10.3389/fphar.2019.00649
Bolke L, Schlippe G, Gerß J, Voss W. A Collagen Supplement Improves Skin Hydration, Elasticity, Roughness, and Density: Results of a Randomized, Placebo-Controlled, Blind Study. Nutrients. 2019;11(10):2494. Published 2019 Oct 17. doi:10.3390/nu11102494
Dar QA, Schott EM, Catheline SE, et al. Daily oral consumption of hydrolyzed type 1 collagen is chondroprotective and anti-inflammatory in murine posttraumatic osteoarthritis. PLoS One. 2017;12(4):e0174705. Published 2017 Apr 6. doi:10.1371/journal.pone.0174705
Glynis A. A Double-blind, Placebo-controlled Study Evaluating the Efficacy of an Oral Supplement in Women with Self-perceived Thinning Hair. J Clin Aesthet Dermatol. 2012;5(11):28–34.
Santos-Parker JR, Strahler TR, Bassett CJ, Bispham NZ, Chonchol MB, Seals DR. Curcumin supplementation improves vascular endothelial function in healthy middle-aged and older adults by increasing nitric oxide bioavailability and reducing oxidative stress. Aging (Albany NY). 2017;9(1):187–208. doi:10.18632/aging.101149
Kawai N, Sakai N, Okuro M, et al. The sleep-promoting and hypothermic effects of glycine are mediated by NMDA receptors in the suprachiasmatic nucleus. Neuropsychopharmacology. 2015;40(6):1405–1416. doi:10.1038/npp.2014.326
DePhillipo NN, Aman ZS, Kennedy MI, Begley JP, Moatshe G, LaPrade RF. Efficacy of Vitamin C Supplementation on Collagen Synthesis and Oxidative Stress After Musculoskeletal Injuries: A Systematic Review. Orthop J Sports Med. 2018;6(10):2325967118804544. Published 2018 Oct 25. doi:10.1177/2325967118804544
Araújo LA, Addor F, Campos PM. Use of silicon for skin and hair care: an approach of chemical forms available and efficacy. An Bras Dermatol. 2016;91(3):331–335. doi:10.1590/abd1806-4841.20163986
Oe M, Tashiro T, Yoshida H, et al. Oral hyaluronan relieves knee pain: a review. Nutr J. 2016;15:11. Published 2016 Jan 27. doi:10.1186/s12937-016-0128-2
Araújo LA, Addor F, Campos PM. Use of silicon for skin and hair care: an approach of chemical forms available and efficacy. An Bras Dermatol. 2016;91(3):331–335. doi:10.1590/abd1806-4841.20163986
Tane N, Takeda T, Shioji T, Ohyama H, Itoh H. Effect of vitamin B6 deficiency on collagen metabolism in rats. J Nutr Sci Vitaminol. 1976;22(2):105-14.