"
I Fought Fatigue All Through My 40's…


Today In My 50's I Finally Feel
Amazing And More Energized
Than Ever Because Of This"
Did you know that studies from The American Thyroid Association show women are 5-8 times more likely to struggle with thyroid problems than men? [1]
This "master gland" sits at the base of the neck and while tiny, it has a big influence on everything from metabolism and energy levels to managing stress, anxiety, weight and even skin and hair health [4].
Think of the thyroid like the gas pedal to the metabolism.
Did you know that the same research from The American Thyroid Association shows that 60% of those struggling with thyroid issues are unaware? [2]
Combine that fact with the natural changes the female body goes through due to menopause and it's clear to see why so many women report feeling "off"…
The good news is, there is hope...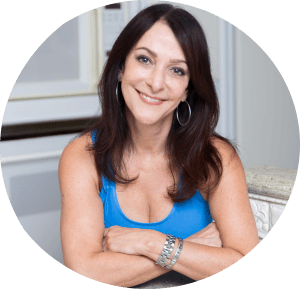 Hi, my name is Dawn Sylvester. I'm 57 years old and I've spent the last decade working with women and researching the real reasons behind why so many of us struggle to manage energy levels, stress, anxiety, weight and even skin and self confidence as we age.
Much of my life I struggled with thyroid issues that I wasn't aware of because I thought it was just part of getting older.
Some days it was hard just to get out of bed and put one foot in front of another because I just felt run down and tired.
I looked in the mirror every day only to see someone I didn't even recognize anymore - Someone I didn't want to be…
The key was removing the foods that were disrupting my thyroid and replacing them with the specific thyroid-friendly foods, spices, teas and essential oils below.
I'll share all the details with you below in a moment. First, take a look at just how important the thyroid really is to women as we age.
I Didn't Want To Just Feel "Good Enough"
I struggled with just "getting by" in my 30's and 40's before discovering the real impact of thyroid health over the female body.
According to the American Thyroid Association, when the thyroid hormone is not optimized, it can lead to:
Feeling tired (7)
Muscles weakness and body discomfort (7)
Poor memory (7,8)
Low energy levels, increased stress, and irritability (7,8)
Intolerance of cold temperatures (7,8)
Thinning hair and even hair loss (7)
Decreased Metabolic rate (7,10)
It's clear to see, the thyroid influences nearly every one of the body's functions.
Most women don't know this, I sure didn't.
I thought that if I dieted and exercised more that it would help.
However, it was only making my body feel worse, and my mind feel hopeless as I got more desperate to try to find answers to why my body was feeling so "down."
All the extra exercise lead to chronic joint pain, inflammation, and it forced my body to release more stress hormones that only decreased my energy, and my adrenals faster…
I didn't feel "normal", In fact, I actually kept feeling worse.
I spent years searching for answers, so that I could get back to living my life again.
A life without fatigue and without feeling so uncomfortable in my own skin.
Finally, An Answer At Last
After years of chronic fatigue and undiagnosed thyroid issues, with my own mom experiencing the very same…
I decided to roll my sleeves up and get to work…
Spending hundreds of hours reading medical journals, research studies, and books from some of today's top thyroid experts.
Once I learned more about the thyroid and discovered how to work smarter, not harder that's when I started to feel better than ever.
My energy levels increased…
My stomach issues, pain and bloating subsided...
My mental clarity was at an all time high…
I felt more alive than ever after months of fatigue, exhaustion, and too many restless nights.
The turning point in my own research was when I found 101 thyroid stimulating foods that haven't gotten the attention they deserve…
101 Foods To Support Female Thyroid Function:
Thyroid Friendly Foods
Energy Enhancing Smoothies
Bone Broth
One of the reasons these thyroid friendly foods and nutrients work so well is because they help maintain a healthy gut…
The gut is the root of all wellness. Which is a huge factor for women when it comes to energy levels, and looking and feeling amazing at any age.
The Thyroid-Menopause Connection
For women over 40, the thyroid-menopause connection is often overlooked..
The combination of thyroid-menopause hormones are the female body's messengers…
And as we age, their signal becomes "disconnected" and the body struggles...
For some women, especially those who experience high levels of stress, certain symptoms may appear, such as:
Fuzzy thinking

(8,9)

Memory Loss

(8,9)

Lower sex drive

(8,9)

Hair loss

(8,9

)

Dry Skin

(8,9)

Lowered metabolism and prone to weight gain (9,10)
However, once you start adding in these specific thyroid friendly foods at the right times throughout the day, the thyroid-menopause signal can be restored and even thrive.
Introducing the "Thyroid Support System"
Once I discovered the 101 thyroid boosting foods, I quickly realized that it was nearly impossible to add them all to my diet.
So I started mixing and matching them in different smoothie recipes so my body and my thyroid got the nutrients they needed without eating around the clock.
And as my energy levels, mood, and the ability to manage my healthy weight improved, I narrowed it down to a simple 3-step system that anyone can use.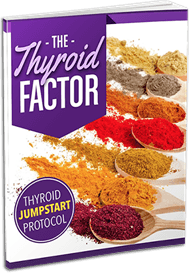 Component #1:

Thyroid Boosting Smoothies
One of the best ways to combat fatigue and a sluggish thyroid is with smoothies that taste great, are simple to make, and help increase a woman's energy levels.
In this recipe book I'll share with you over two dozen smoothie recipes that can be enjoyed for breakfast, lunch, dinner, or as a bedtime snack to help boost hormone and thyroid levels.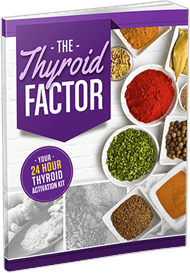 Component #2:

24-Hour Detox
The next step is to help reduce inflammation and improve digestive health by introducing foods, nutrients, and spices that help boost energy levels and work with the body to help maintain a healthy weight.
In this done-for-you template, I'll walk through exactly what to do over the next 5 days so there's no confusion whatsoever…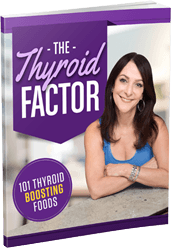 Component #3:

101 Thyroid Friendly Foods
This easy-to-follow guide goes into great detail on the 101 thyroid friendly :
Foods

Teas

Essential oils

Herbs

And spices
Now any woman will have endless options when it comes to eating delicious foods that help support healthy female thyroid function and hormones at any age.

---
I met with Dawn because I was eating healthy and exercising but my body wasn't changing due to thyroid issues. It was extremely frustrating for me and I knew she was very knowledgeable in both nutrition and thyroid health. And it was reassuring to know she personally understood what I was going through.

For years I was frustrated as the "mainstream" advice was not working.

I have lost 15 lbs and continue to get stronger, healthier and happier. I am thankful there are individuals out there like Dawn, who are fighting the same battles, doing everything they can to be well informed and find solutions, then spreading the word to help others.

Melanie M.

---
After years of struggling with fatigue and hormonal imbalances, I feel better approaching 60 than I have in ages. I thank my "mentor and life coach", Dawn Sylvester, for her guidance and wonderful simple to follow, healthy living tips.  I am stronger, more energetic, and have the confidence I never had. I now know what she means when she says "forget fad diets and hours of cardio". I eat tasty foods and feel great!

I feel younger now, and  better than I did years ago. Balanced, hormonally sound, vital. Life is very good, and I look forward to the future.

Thank you, Dawn.

Linda Johnson, 58

---
Before following Dawn's hormone/thyroid/anti-aging balancing plan, I was challenged with physical demands and always wished I had more energy.

My knees hurt, and I wondered how to STOP or slow down the aging process before I turned 70.

Now, I really feel younger and stronger than 15 years ago. I now have no pain in my knees from following her plan with ancient healing supplements and foods, and…  I have a greater range of movement all over my body with consistent improvement.

I feel more confident and capable. I even feel more accomplished!

It's very important to me to be strong and energized for my active, non-stop life. Dawn changed my life forever. Thank you, Dawn!

Pamela Voss-Page, MED

Executive Director, Research and Development; Student Leadership Services, Inc. since 1982. Validated, National, Michigan developed youth-led health and safety programs.

---
Most people write testimonials that say their 'lives have been changed'.

I feel this does not even touch the surface of what Dawn Sylvester has done for me. She has changed MY outlook on MY life. To me this is far more valuable.

I love all of the options she gives me to eat. I am NEVER hungry or obsessed with what I am missing.

Her plans make sense, not like the other methods that  leave you starving and feeling tired. (nearly all women have tried those and failed!)

Dawn has a positive outlook on her own life ,and that is an important part of aging that she has made me feel too!

Helen W.
My Female Clients Pay Up To $57 For This Done-For-You Protocol...
To Take Advantage Of This Special Facebook Discount
Now, it's easy to believe that a one of a kind thyroid jumpstart system JUST for women would cost a pretty penny…
And, In All Honesty?
It Really Should.
After all, these methods have already helped countless women rejuvenate their energy levels, eliminate fatigue, while reclaiming their vitality and adding more pep to their step...
Yet, because we're doing a special pre-launch, I've convinced my publisher at the Ageless Body Academy to allow me to practically give away a limited number of copies for the extremely discount price of just $15…
I completely understand that it may be difficult to imagine a youthful body filled with energy when nothing has ever worked in the past…
That's why I've included my 100% Money Back Guarantee...
I'm so confident that this breakthrough system for women is going to deliver amazing results that there is ZERO risk what-so-ever to try it out.
Take advantage of my Unconditional 100% RISK-FREE, Money Back Guarantee and get results first, then decide.
Once you enter in your information, you'll receive instant access to the entire Thyroid Boosting system…
Along with the step-by-step guide on how to get started.
And if you have any questions at all, I'll be there to help.
Here's to a healthy beginning,
Dawn Sylvester
P.S. Remember that any woman can try the entire program out for a full 60-days and if for some reason it's not a good fit, simply let me know and we'll send a full refund with no questions asked.

---
After my boys were born, I realized that I no longer had the energy to make it through a day.  At work, I would be fatigued each afternoon. I would reach for chocolate to help me make it through the rest of the day and evening.  My hormones were a mess, and I was feeling hopeless.

I could not lose my baby weight and I looked like I was still carrying a baby.

Then, I started working with Dawn.  She quickly identified my addiction to chocolate and lack of nutrients in my diet.

She made me realize the importance of certain foods and herbs that stimulate the entire body into feeling better!

Quickly, I started to have energy again each day.  I no longer had my daily brain fog as I wasn't skipping meals, and I now knew what to eat.  In addition, my body shape was transformed.

Dawn has changed the way I think about food, how I eat, and how I move through each day. I LOVE the new and happier ME!

Jessica S.