(Make sure your sound is turned on.)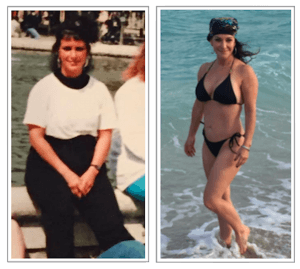 Would you rather read the text transcript of how a 55 year old mom used this thyroid trick to lose almost 10 lbs in the first week and then went on to lose 26 lbs and flatten her belly in 21 days...
-OR-
Click Anywhere Outside This Box To Continue Watching The Video
The Thyroid Factor Is A Foolproof Science-Based 21 Day Thyroid Boosting Weight Loss System For Women Who Want To Flatten Their Belly Without Starving Or Long Grueling Workouts...
Inside this easy-to-read comprehensive thyroid blueprint I lay out my unique and targeted female nutrition strategies that almost any woman can use to balance her body, increase energy naturally, and burn stubborn belly fat at any age.
Whats more is I've made sure to leave no stone left unturned, just LOOK at a few of the things you'll discover today inside: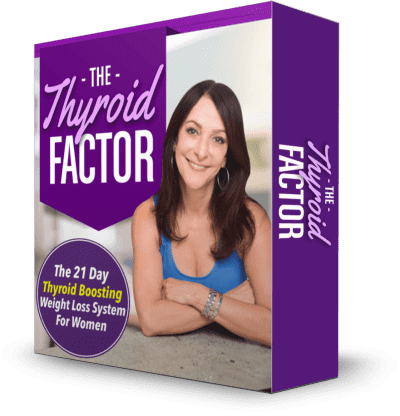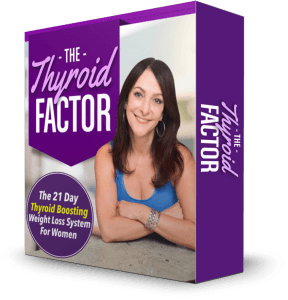 What every woman with low thyroid must know to regain her energy and feel better physically and mentally
The full list of thyroid suppressing foods and how you can avoid them today
How to order the RIGHT thyroid lab tests (Plus what thyroid tests will be the most beneficial and what do they mean)
The 7 thyroid questions every woman MUST ask their healthcare provider
The top thyroid support supplements to take daily (and which ones to completely avoid)
The missing thyroid minerals and nutrients most women are deficient in that helps stimulate healthy thyroid production
Bonus #1 - 101 Thyroid-Boosting Foods Collection ($47 Value)
One of the hardest things for women over 40 are the changes the body goes through.
Your metabolism slows to a screeching and halt and belly fat piles up...
And most of that has to do with the #1 female fat-burning hormone:
...your thyroid.
To make matters worst, when you eat the wrong foods your thyroid function plummets and weight loss becomes virtually impossible no matter what you do.
Fortunately, inside this easy-to-follow guide reveals 101 thyroid friendly foods, teas, essential oils, herbs and spices – everything a woman needs to optimize their thyroid health, flatten their belly and boost their energy fast!
Now you can finally have a "go-to" quick source for endless options when it comes to eating delicious flat belly foods that help support healthy female thyroid function.
Bonus #2 - Thyroid Boosting Quick Start Guide ($27 Value)
Now because I'm a busy, working mom I know first hand how difficult it can be to stay on track while trying to balance everything else.
That's why I've included this simple step-by-step guide for how to start living the healthy thyroid lifestyle in the fastest, most effective and enjoyable way.
I'll walk you through exactly what to do, meal-by-meal from which thyroid-suppressing foods to avoid to a "fast start" thyroid meal plan you can use tonight.
100% Risk-Free. 60 Day Money Back Guarantee
"My hormones were a mess and I was feeling hopeless...I LOVE the new and happier ME!"
After my boys were born, I realized that I no longer had the energy to make it through a day.  At work, I would be fatigued each afternoon.  I would reach for chocolate to help me make it through the rest of the day and evening.

My hormones were a mess, and I was feeling hopeless. I could not lose my baby weight and I looked like I was still carrying a baby.

Dawn made me realize the importance of certain foods and herbs that stimulate the entire body into feeling better!

I followed Dawn's nutritional recommendations, Quickly, I started to have energy again each day. I no longer had my daily brain fog as I wasn't skipping meals, and I now knew what to eat.  In addition, my body shape was transformed.

Dawn has changed the way I think about food, how I eat, and how I move through each day. I now actually crave healthy food, and feel energized. I LOVE the new and happier ME!

Jessica Seifker, 43
"I love all the options to eat...I am NEVER hungry"
Most people write testimonials that say their 'lives have been changed'.  I feel this does not even touch the surface of what Dawn Sylvester has done for me. She has changed MY outlook on MY life. To me this is far more valuable. Through her, I have been valuing every day in my new body and refreshed mind.

I love all of the options to eat. I am NEVER hungry or obsessed with what I am missing. Her plan make sense, not like the other methods that leave you starving and feeling tired (nearly all women have tried those and failed!). Her methodology coaches not only how, but why she chooses the meals she chooses for us.

For overall wellness, longevity and to feel good while looking good. Dawn has a positive outlook on her own life ,and that is an important part of aging that she has made me feel too!

Helen Watson, 49
"I have referred multiple patients of mine to Dawn"
Dawn was introduced to as a patient at the recommendation of a mutual colleague of ours.  Within the first minute of our discussion of her case, I could tell she was very different than most of my patients.

Her drive, determination, and attention to detail far exceeded my experience with any patient I'd ever met, and after talking with her a few minutes more, she explained what she did for a living… and it all made sense.

Dawn amazes me with her determination to continually maximize her life and she has inspired me to continue to follow my passion, regardless of the obstacle standing in my way.  She has the knowledge to help her clients achieve their goals, but more importantly, she has an infectious spirit to motivate when you might feel like giving up.

I have referred multiple patients of mine to Dawn to help them achieve their weight loss, activity, and life goals, and will continue to do so.  I would entrust Dawn with my family and friends.  She is the best!

Dr. Tom Nabity MD

Michigan Center for Regenerative Medicine
"I feel more confident and capable"
Dawn's lifestyle guidelines have made my body and mind stronger! I have learned to incorporate strategies in my two jobs and everyday life with my five grandchildren (I have no time for fatigue).

Before following Dawn's thyroid balancing plan, I was challenged with physical demands and always wished I had more energy. My knees hurt, and I wondered how to STOP or slow down the aging process before I turned 70.

Now, I really feel younger and stronger than 15 years ago. I now have no pain in my knees from following her plan.

I don't ever worry about hurting myself in my daily activities. I incorporate Dawn's words in my daily life: "Eat for energy, Balance is the key, physically and mentally."

I feel more confident and capable. I even feel more accomplished! It's very important to me to be strong and energized for my active, non-stop life. Dawn changed my life forever.

Thank you, Dawn!

Pamela Voss-Page, MED

Executive Director, Research and Development; Student Leadership Services, Inc. since 1982. Validated, National, Michigan developed youth-led health and safety programs.
100% Risk-Free. 60 Day Money Back Guarantee
"Through my interaction with Dawn I have been extremely impressed"
Dawn is extremely passionate about the relationship between lifestyle and health. She loves to share this passion with others through coaching women, utilizing her knowledge of nutrition.

Through her own struggles, Dawn has had first-hand experience of how methods of staying away from fad diets and processed foods and maintaining an active lifestyle can help balanced hormones and prevent weight gain and weakness.

She shares her methods with her female clients, particularly addressing those concerns related to women aging and menopause. Through my interaction with Dawn I have been extremely impressed by her determination, enthusiasm and proactive approach to her health.

Dr. Alison Ramsden, DC, MSNFM
"I feel younger now, and better than I did years ago"
After years of struggling with fatigue, and hormonal imbalances I, feel better approaching 60 than I have in ages.  I thank my "mentor and life coach", Dawn Sylvester, for her guidance and wonderful  simple to follow, healthy living tips. 

I am stronger, more energetic, and have the confidence I never had.  I now know what she means when she says "forget fad diets and hours of cardio". I eat tasty foods, use supplements that keep the pain away, and feel great!

I feel younger now, and better than I did years ago. Balanced, hormonally sound, vital. Life is very good, and I look forward to the future.

Thank you, Dawn.

Linda Johnson, 58
"Dawn knows just what women need to look and feel younger"
If you want to see an example of an energetic woman over 50, look no further than Dawn Sylvester. She's a poster child for aging slowly. Despite having to manage an autoimmune thyroid condition for years, she virtually bubbles with vitality.

Her passion for women's health issues holds true with the myriad of women she has helped, with lost energy levels and aging, in addition to weight gain and hormonal issues. With decades of real-world experience, Dawn knows just what women need to look and feel younger.

Maureen Garry

Creator And Host Of The Female Brain Summit
100% Risk-Free. 60 Day Money Back Guarantee
Q: Will this program work for someone older?
Absolutely! The truth is most health programs are designed for people in their 20's or 30's who can do all these outrageous exercises and starvation diets when those same things can ruin a woman's metabolism as she gets older…
I created this program in my mid-50's after realizing there was NOTHING available for older women and men who want to feel and look their best at ANY age.
Q: Do I need a bunch of diet foods to get started?
No, absolutely not, and all of the foods in the Thyroid Factor are likely in the house already or can be found at a local grocery store. There's no need to order any expensive ingredients or get a gym membership to get started.
Q: What makes this program different than everything else I've tried?
Great question! You see, 99% of the health programs out there don't even mention the thyroid or how it controls almost every function in the body. This is why all the fad diets and intense workout programs never worked for me, because they don't address the main problem at the source…
Which is the thyroid and how it may not be producing the necessary hormones.
Q: How long will the discount be available?
Unfortunately, the deep discount can't last forever and is not guaranteed past today.
Q: Will I ever be billed again?
No, this is a one-time only payment.
Q: What if the program doesn't work for me?
These techniques have changed women's lives, which is why I wanted to make it as easy as possible for anyone to try it. So I took all the risk so any woman can test it out on me.
If for some reason the program just isn't a good fit, send me an email, and I'll gladly provide a timely and complete refund with no questions asked.
Q: I want to get started today. Do I have to wait for anything to be sent to me?
No, instant access will be granted instant digital access to complete Thyroid Factor system. Nothing will be sent in the mail.
Q: Dawn, I'm ready to make a change. What is the next step?
I'm so excited! The first step is to click the "Buy Now" button below, fill out our 100% secure order form, and instant access will be granted to the entire Thyroid Factor system. Plus a Quick Start Guide that will lay out in detail exactly how to get started in the easiest way possible.
And with my 60-day 100% money-back guarantee, there's nothing to lose and an exciting, youthful life to gain.
100% Risk-Free. 60 Day Money Back Guarantee
References:
(1)https://www.thyroid.org/wpcontent/uploads/patients/brochures/Hypothyroidism_web_booklet.pdf
(2)https://www.thyroid.org/media-main/about-hypothyroidism/
(3)http://www.yourhormones.info/glands/thyroid-gland.aspx
(4)https://www.thyroid.org/media-main/about-hypothyroidism/
(5)https://www.endocrineweb.com/endocrinology/overview-thyroid
(6)https://www.womenshealthnetwork.com/thyroid-health/hypothyroidism-in-menopause.asp
(7)http://www.yourhormones.info/glands/thyroid-gland.aspx
(8)https://www.thyroid.org/wp-content/uploads/patients/brochures/Hypothyroidism_web_booklet.pdf
(9)https://www.thyroid.org/wp-content/uploads/patients/brochures/Hypothyroidism_web_booklet.pdf
(10)https://academic.oup.com/jcem/article/90/7/4019/2837271/Small-Differences-in-Thyroid-Function-May-Be
Contact Us: 1-800-207-4562 support@agelessbodyacademy.com